Robert A. Meade
"Bo"
1956-2009
Robert "Bo" Meade age 52 years, transitioned from earth to heaven suddenly Sunday, March 15, 2009 at his residence.
"Bo" as he was affectionately known was born in Joliet and graduated from Joliet Central High School in 1974. Bo attended DeVry University and obtained a Certificate in Electronic Techndogy from the Wilco Career Center.
"Bo" was employed at Joliet Equipment Corporation for 18 years where flourished under the mentorship of Dan Remus before he ventured into a business co-ownership. Joliet Techndogies,
is an LLC of 5 partners, that was established in 2002.
"Bo" was a faithful mernber of Sacred Heart Church where he served as an usher, youth mentor, "manager" of the choir especially at Revival time, and was also known as the "poet laureate".
He was an avid sports (die hard Cubs Fan) and was associated with the Youth Baseball Association of Richton Park.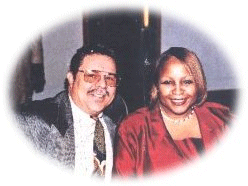 "Bo" was Pat's muse, rock, number one fan and partner in marriage for 23 years.
"Bo" was preceded in death by his father John A. Meade and one brother Larry McElrath.
"Bo" leaves to cherish his memory, his beloved and devoted wife Pat, mother Louise Fields, two brothers Chuckie (Mittchelena) Meade, Billy (Sandra) Meade, one sister Lora Ann Meade, very special nephew Jon Kelly, "nefues" Richard & Collins Ford, sister-in-laws Denise Kelly and Marybeth Jones, special aunt Marian Leverette, also survived by aunts: Vivian Byes, Bette (Dan) Fryan, Nancy Gregory, Penelope (Darnell) Johnson, Jeanette (Donald) Johnson, and one uncle Mark Robinson, numerous aunts, uncles, nieces, nephews, cousins and extended family.
"Bo" will be greatly missed by all.