As of March 26, 2010 Joliet Technologies is no longer representing the Avtron line of products.
We do however represent the Dynapar line of Rotary Feedback Products.
Avtron – Adjustable Speed Drives and Drive Systems
Joliet Technologies is the preferred Avtron Integrator for the Chicagoland area.
Adjustable Speed Drives and Drive Systems
Additional Products by Industrial Automation Division
---
Avtron NetMaxTM EthernetTM Module for AutoMaxTM Systems
| | |
| --- | --- |
| | The NetMax card, unlike other bridge products being sold, is plugged directly into the AutoMax rack. It provides access to any and all variables within the AutoMax system without the bottleneck of the DCS network. Now you can easily access AutoMax data with improved connectivity to HMI's, PLC's, Data Loggers, or other plant controls. You can modernize your communication system and extend the life of your AutoMax system. The Avtron NetMax card supports ModBus TCP, EGD (GE), and Ethernet/IP implicit, explicit, PCCC Ethernet Protocols.Read More about it! View the sales literature in PDF format. Questions on PDF? Visit FAQ's on PDF. |
Key Product Features:

Inserts directly into AutoMax rack
Supports ModBus TCP, EGD (GE), and Ethernet/IP implicit, explicit, PCCC Ethernet Protocols
Copper and Fiber Connections
10/100 Mb/sec data speeds
Supports floating point data

For more information: Contact us.

Product Benefits:

Extends life of AutoMax systems by connecting to other networks.
Several on-board industrial protocols to connect with HMI's, PLC's, data logging systems, and drives.
Seamless integration with AutoMax hardware and software.
High performance access to any and all variables inside AutoMax rack.
NetMaxTM is a trademark of Avtron Manufacturing, Inc.
EthernetTM is a trademark of Xerox Corporation.
AutoMaxTM is a trademark of Rockwell Automation.
---
Avtron VME EthernetTM Module
Modernize your system-wide communications without replacing your current PLC hardware and software with Avtron's New VME Ethernet Module. Designed for installation in a traditional VME Rack, the following benefits will be realized:

Seamless Integration with Legacy VME PLC Systems.
Easy Set-up with little PLC programming required to integrate Ethernet into existing ADDvantage-32 Drives.
Provides high performance Ethernet replacement for 802.4 LAN.
Upgrades Drive Network while eliminating costly troubleshooting downtime.
Can be accomplished during routine shutdowns, one drive at a time.
Key Features include:
Embedded Linux Operating System.
EGD and Proprietary Exchange Service Protocols supported.
Application software for communication with up to (16) ADDvangate-32 Drives and (1) Performance View.
6U, Single Slot Eurocard format.
Intel Pentium III processor.
24-bit VME Address (A24) Space Employed.
Dual 10/100 TX Ethernet Interface Ports
Front Panel Diagnostic LEDs.

Read More about it! View the sales literature in PDF format. Questions on PDF? Visit FAQ's on PDF.
---
Avtron Industrial Power Resistors

Five styles of Industrial Power Resistors.

Avtron industrial power resistors are designed for typical industrial applications ranging from 1 amp to 525 amps and up to 1200 amps for higher voltage power plant applications. They provide short term overload current protection.Avtron resistors work better and cost less. Designs replace existing resistors without modifying equipment. Avtron can quote and deliver these items based on the part numbers of the equipment being replaced and do it faster than most other vendors.
Avtron's quality is unequalled. Fully-supported elements prevent premature failures by resisting shock and vibration. Unique element designs allow for maximum cooling to ensure long life. Chromium alloy and aluminized steel housings provide high reliability and corrosion protection. Available options include enclosures, wiring and interconnection, thermal switches, and incorporation into control systems.
Applications for Avtron Industrial Resistors include:
Neutral Grounding Resistors
Dynamic Braking
Overhead Cranes
Electric Lift Trucks
Mining Machines
Locomotives
Harmonic Filters
Process Heating
Electric Furnaces
Convection Heaters
Load Discharge
Load Banks
Ballast Resistors
---
K679A Rotary Knife Digital Controls
Avtron's Rotary Knife Digital Control System provides the latest in high precision digital technology for the retrofitting of existing rotary knife cutters. Mechanical systems can be easily upgraded, allowing faster length change and more accurate cut length (see examples below).
Additional benefits include:
Potential increase in machine horsepower
Increased line speed with higher accuracy
Less operator attention required
Automatic sheet counting
Lower operating cost and maintenance
Jagenberg Sheeter Upgrade
Before

K679A and


With

K679A during Acceleration and Deceleration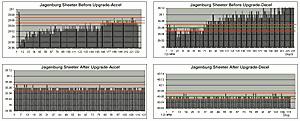 Sheet length variation before and after upgrade.
Click here for enlarged view of graphs.
---
K677B Splice Controller
The Avtron K677B Digital Splice Control System provides automatic accurate control for the splicing of the expiring roll and a new roll. Swing arm or turret operation parameters are conveniently displayed to the splice operator during the process, to minimize waste and eliminate missed splices. The system is easily configurable by the operator thus making the system easier to understand and maintain.
Other system features include:
Graphical 4-channel signal recorder for diagnostics
Fast 32-bit controller
5″ x 9″ operator interface with sealed keypad
One or two core sizes
---
K895 Line Shaft Draw Controller
The Avtron K895 Digital Speed/Draw Control System is designed for upgrading line shaft machines, to provide progressive draw control for up to 15 machine sections. Mechanical belt shifters are interfaced to fast, accurate Digital controls. Operator stations interface control and display for each section's Speed and Draw. Each section is coordinated with the others through a communications serial link.
System capabilities include:
LED display for each section
Setpoints entered in percent, ratio or difference draw modes
Sections can be added one at a time
Accuracy of 0.01% with one second update time
User defined draw – progressive, electrical line shaft, or both
Individually tunable speed/draw, per section
---
Call Joliet Technologies TODAY 
If you have any questions concerning Avtron's Adjustable Speed Drives and Drive Systems or related products, please contact us by:
Phone (815) 725-9696,
Toll Free (866) 492-9888,
Fax (815) 725-9393 or
E-mail info@joliettech.com
---
Joliet Technologies is an OEM that custom packages, integrates and engineers AC Variable Frequency Drives (VFD), DC Variable Speed Drives (VSD) and AC Drive Controllers. Our drive systems integrate top of the line manufacturers, like ABB, Emerson (Control Techniques & Saftronics / Fincor), Siemens and WEG to name a few. Our added value custom drive packages are built to your specifications for your application. We specialize in large horsepower drive systems (500Hp and above). Call us at (815) 725-9696 or fax us at (815) 725-9393 or e-mail us or fill out an RFQ with your requirements. Serving the greater Chicagoland area and the World.