Low voltage AC drives
ABB industrial drives
ACS880, single drives
0.75 to 1700 hp (0.55 to 1300 kW)
Intuitive human-machine interface
Intuitive human-machine interface
The assistant control panel features intuitive use and easy navigation. High resolution display enables visual guidance. The panel saves on commissioning and learning time by means of different assistants, making the drive simple to set up and use.
It is possible to organize parameters in different ways and store essential parameters for different configurations for any specialized application needed. The menus and messages can be customized for specific terminology so that each application can be set up and configured to its optimum performance.
This makes the drive easier to use with information that is familiar to users. With the panel's text editor, users can also add information, customize text and label the drive. Powerful backup and restore functions are supported as well as different language versions. The help key provides context sensitive guidance. Faults or warnings can be resolved quickly since the help key provides troubleshooting instructions.
One control panel can be connected to several drives simultaneously using the panel network feature. The user can also select the drive to operate in the panel network. The PC tool can be easily connected to the drive through the USB connector on the control panel. There are also control panel mounting platforms, DPMP-01 and DPMP-02, available for cabinet door mounting with IP55 or IP65 protection class.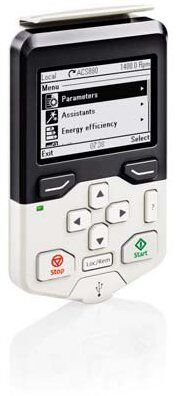 ---
© Copyright 2015 ABB. All rights reserved.
Specifications subject to change without notice.