Commander SK

Simplicity with Function
---
PLEASE NOTE: Effective 2019, we no longer supply Control Techniques variable frequency drives and components. We have drives from several other manufacturers which can meet or exceed the performance characteristics of the Control Techniques line. Simply complete the form below, or contact us with the model of your current or obsolete Control Techniques drive and we'll be glad to identify a suitable replacement.
---
Terminal Diagram and Description
Options
TERMINAL DIAGRAM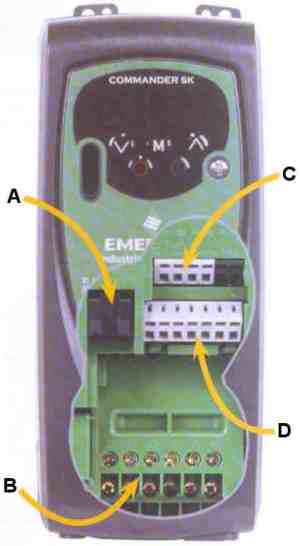 TERMINAL DESCRIPTION
Pin
Type/Description
Default Function
Notes
T1
0V Common
Common for External Analog Signals
T2
*
Analog Input 1 (A1)
either voltage or
current
Remote speed
reference input
4-20mA
T3
+10VDC
Reference Supply
5 mA max
Short Circuit Protected
T4
Analog Input 2 (A2) or Digital Input
Local Speed reference input 0-10V
0 to +10 VDC (AI)
0 to +24 VDC (DI)
Sample Times 6ms
T5
T6
Status Relay
(Normally open)
Drive Healthy
240 VAC
30 VDC
2A/6A resistance
B1
Analog Output 1
single ended Unipolar
Notor speed
0 to +10 VDC
@ 5 mA max
Update Time 6ms
B2
+24 VDC Output
User Supply
100 mA max
B3
Digital Input/Output Pulse Output
Zero speed
0 to 24 VDC,
6.8k Ohms input
Update Time 1.5ms
Pulse output to 10 kHz
B4
Digital Input
Not-stop
0 to 24 VDC,
6.8k Ohms
Update Time 1.5ms
B5
Digital Input
Run
0 to 24 VDC,
6.8k Ohms
Update Time 1.5ms
B6
Digital Input
Jog
0 to 24 VDC,
6.8k Ohms
Update Time 1.5ms
B7
Digital Input / Pulse Input
Local/Remote
Speed Reference
Select A1/A2
0 to 24 VDC,
6.8k Ohms
Update Time 1.5ms
Pulse output to 50 kHz
Programmable Analog
All Analog I/O is scalable
Programmable Digital
* 4-20, 20-4, 20-0mA are also available. See Commander SK Getting Started Guide.
Information provided by Control Techniques, a world leader in the design, production and marketing of electronic drives for the control of electric motors.