Dynapar
Innovation, Customization, Delivery
Dynapar encompasses the broadest line of trusted brands in motion feedback control, including Dynapar encoders and Hengstler brand incremental encoders and absolute rotary encoders, Northstar heavy-duty magneto-resistive and Heavy-Duty optical encoders and high-performance Harowe brand resolvers. Only Dynapar feedback solutions offer these world-class rotary feedback brands from one Global Supplier with 3 day delivery on most models for customer peace of mind.
Joliet Technologies is the preferred Dynapar Integrator for the Chicagoland area.
---
Series 60 Rotopulser© Incremental Encoders
Quick Specs…
Heavy-duty bearings with 1/2″ diameter shaft
LED optical light source
Unbreakable disk
Wide selection of resolutions available up to 2500 PPR
Servo ring and face mount options
Overview / Design Principle:
Dual shafts and measuring wheels are recommended for better parallel tracking in measuring applications.
Series 60 Rotopulser encoders are available with line driver outputs for applications with longer cabling requirements (hundreds of feet) and/or higher signal noise immunity.
Features and Benefits:
Mechanical / Environmental Features
Heavy-duty 1/2″ single and dual shafts available
Rugged mylar or photoplast discs (no glass discs)
Up to 3600 RPM
0 – 54° C operating range
Precision machined die-cast aluminum housing with optional shaft seals
Extra wide bearing span with precision ball bearings front and rear
Electrical Features
Up to 2500 pulses/rev.
LED light source for long-term reliability and trouble-free operation
Built-in low impedence amplifier for driving long lines
Switches from line-to-line for current sourcing and sinking
Up to 50 kHz electronic operating speeds
The Dynapar Advantage:
Innovative, high quality leading edge technology encoder products
Broad commercial – industrial grade product line
Fast 3 Day Delivery and customized built to order solutions available
Global Manufacturing & Service Support
Fast-Friendly Customer Service & Technical Support with Multi-Lingual Capabilities
Global Network of Authorized Resellers
Competitive Product Warranty: 2 Years
Applications:
The Series 60 incremental encoder is a rugged, incremental, optical encoder for speed, position, and motion applications. The standard mechanical size 35 package is designed for high resolution applications and rugged industrial environments.
Length measurements
Motor drive speed feedback
Cut-to-length (textile, paper, wood, metal, rubber, plastics, etc.)
Back-gage positioning
PLC's and electronic counters
Specifications:
Electrical
Power Requirements: Incremental
Frequency Response: 1 to 2540 PPR (pulses/revolution)
Minimum Free Path: (Worst case any edge to any other edge) = 1024 PPR (metal disk): ± 7.5 arc-min. > 1024 PPR (glass disk): ± 2.5 arc-min.
Differential Output: Two channel quadrature (AB) with optional Index (Z) and complementary outputs

Connections
Mating Connector: Style MS3106A-18-1S; Dynapar Part No. MCN-N6
Singled-Ended Output: 7272, 40mA sink/source;
Mating Connector: Style MS3106A-14S-6S; Dynapar Part No. MCN-N4
Mechanical
Weight: 26 oz.
Shaft Range: Up to 3600 RPM
Shaft Loading: Radial: 15 lbs. overhung;
Axial: 5 lbs.
Inertia: 170 gm-cm2
Starting Torque: 0.45 oz-in (0.30 oz-in for 1/4 in. dia. shaft)
Running Torque: 0.35 oz-in (0.15 oz-in for 1/4 in. dia. shaft)
Shaft Diameters: 1/4″, 1/2″ (-0.0003″/-0.0007″)
Environmental
Enclosure Rating: NEMA 12 / IP54
Temperature Range: 0 to +54° C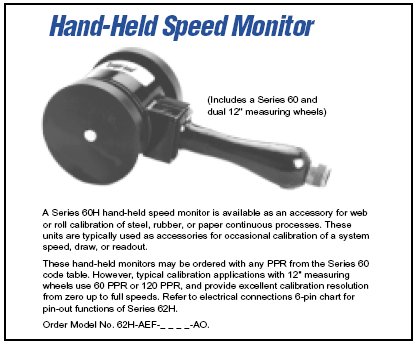 Available Specifications:
Related Products & Resources:
---
For additional information or to receive a full-line catalog, contact your Dynapar representative at 1.800.873.8731 or visit their web site at: www.dynapar.com
Headquarters:1675 Delany Road • Gurnee, IL 60031-1282 • USA
Phone: 1.847.662.2666
Fax: 1.847.662.6633
Email: custserv@dynapar.com or dynapar.techsupport@dynapar.com
© 2009 Dynapar Corp. Printed in U.S.A. • Feedback Quick Reference Guide P/N# N-FLB130 (11/09) 5M
---
Call Joliet Technologies TODAY 
If you have any questions concerning Dynapar products, feel free to contact us:
Phone (815) 725-9696,
Toll Free (866) 492-9888,
Fax (815) 725-9393 or
E-mail info@joliettech.com
---
Joliet Technologies custom packages, integrates and engineers AC Variable Frequency Drives (VFD), DC Variable Speed Drives (VSD) and AC Drive Controllers using top of the line manufacturers, like ABB, Emerson-Control Techniques, Siemens and Saftronics (Fincor). Our custom drive packages are built to your specifications for your application. We specialize in large horsepower drive systems (500Hp and above). Call us at (815) 725-9696 or fax us at (815) 725-9393 or e-mail us or fill out an RFQ with your requirements. Serving the greater Chicagoland area and the World.