MOTORTRONICS
Medium Voltage
Solid State Soft Starters

5kV, 7kV and 15kV Class

Advanced motor control, protection and monitoring in a reliable, field-proven soft starter




Protection
Advanced Protection
Every facility has equipment critical to its operation and productivity. This equipment is often controlled by medium voltage AC motors.

The MVC Plus Series soft starter provides the highest standard of motor control and unsurpassed protection for these critical motor applications.

All the features of a motor protection relay without the added cost.

True Thermal Modeling monitors the motor for excessive thermal conditions due to starting, running , Motor Thermal and even ambient Model conditions. 0%
Retentive Thermal Memory for continuous overload protection even after a complete power loss. When power is restored, the MVC Plus remembers the last thermal condition of the 100% motor, observes the off time via a real-time clock and adjusts the thermal model accordingly.
Non-Volatile Memory stores the thermal memory without the need for batteries.
True Time Thermal Tracking adjusts the thermal model for different cooling rates based on motor temperature, running state or power loss.
Dynamic Reset Response Reset is only allowed after the motor has sufficient thermal capacity for a successful restart.
Thermal Model Biasing adjusts for heating effects of phase current imbalance or optional RTD inputs.

Flexible Setup
Choose the level of overload protection.

Programmable Trip Classes selectable fromNEMA/UL Classes 5 – 30.
Dual Mode Protection separate trip curves forstart and run modes (example: Class 20 for start, Class 10 for run).
Warning Levels can be programmed and assigned to one of six built-in output relays.
Custom Trip Curve programmable based on the motor manufacturer's data or it can use a "Learned Overload Curve" that reflects normal running condition with a programmable trip bandwidth.
Remote or Automatic Overload Reset can be activated for unattended operations.
ANSI / IEE
Number

System / Protection Features

19

Reduced voltage soft start

YES

27

Under voltage

YES

37

Undercurrent

YES

46

Current Imbalance

YES

47

Phase rotation

YES

48

Locked rotor / Incomplete sequence

YES

49

12t electronic motor overload

YES

50

Instantaneous electronic over current trip

YES

51

Over current

YES

55

Power factor trip

YES

59

Over voltage protection

YES

66

Starts per hour and time between starts

YES

81

Frequency variance

YES

86

Lockout / start inhibit

YES

50N/51G/N

Ground fault detection, instantaneous and current

Optional

48/38

Stator and bearing RTD protection

Optional

14

Speed switch and tachometer trip

Optional
The MVC Plus Series soft starter provides the system protection features found in expensive "stand-alone" Motor Protection Relays, without costly add-on cards or discreet devices.
Over Current / Electronic Shear Pin trip and alarm safeguards your motor and equipment. Protects against jammed loads, sand in pumps, detects worn out blades, etc.
Under Current / Load trip and alarm sensing detects an underloaded motor due to shaft/belt breakage or loss of prime in pumping systems.
Dual Mode Short Circuit Trip (exclusive "toe-inthe-water" circuit) pre-checks the motor to prevent starting into a shorted load. In the Run mode, it becomes an "electronic fuse" tripping faster than most fuses and circuit breakers.
Phase Rotation, Phase Loss and Current Imbalance Protection
Under Voltage, Over Voltage and Line Frequency trips and alarms protect against power problems from the utility or generator.
Ground Fault Option
Zero Sequence ground fault protection can be provided to protect equipment from damage due to faulty grounded conductors or motor windings. Separate High (fast) and Low (slower) trip points and alarm levels are available to help prevent nuisance trips. The ground fault protection (T uses a fiber optic connection for safety isolation.
RTD Input Option for Precise Thermal Management
Thermally biased, programmable RTD inputs can be multiple types and can be individually named. Each RTD can be assigned to an output relay with different values for alarm or trip. Temperatures are recorded to the fault history and can be used to activate warning or trip relays based on setpoints. 12 RTD inputs can be configured in software to match the RTD material used and can be monitored at the keypad or remotely.
Real-time Clock Features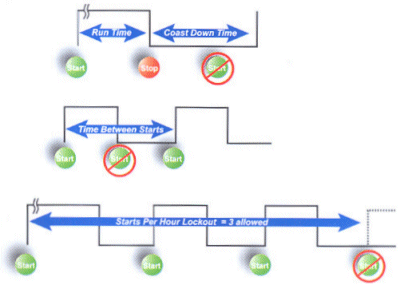 Coast Down/ Back Spin Lockout (programmable up to 60 minutes) prevents a start attempt when the motor /Ioad is backspinning when the motor is turned off.
Elapsed Time Metering indicates run time for scheduled maintenance or trouble shooting help.
Time Between Starts Lockout eliminates motor and equipment damage caused by repeated start commands.
Time and Date Stamping of faults for precise recording of what happened when.
Starts-per-Hour Lockout/Short Cycle Timer allows you to program the maximum number of starts per hour and provides a programmed "wait time" (0 – 60 minutes) between start attempts.
Contact Joliet Technologies for pricing,
availability and freight options.
Phone: (815) 725-9696 or
Toll Free: (866) 492-9888
Fax: (815) 725-9393
E-mail: info@joliettech.com
RFQ – Request for Quote