As of March 26, 2010 Joliet Technologies is no longer representing the Avtron line of products.
We do however represent the Dynapar line of Rotary Feedback Products.
Avtron – Tachs, Tachometers, Encoders, Rotary Pulse Generators
Joliet Technologies is the preferred Avtron Integrator for the Chicagoland area.
Tachs, Tachometers, Encoders, Rotary Pulse Generators 
M3 Installation
Installation
Because the M3 is fully self contained, there are no complicated alignment procedures required. Simply slide the M3 onto the shaft, tighten the clamping collar, and connect the anti-rotational bracket to the back of the motor. The M3 does not depend on precise motor tolerances or C-Faces to operate.
Even on motors equipped with machined C-Faces, the Shaft Mounted M3 has advantages because it eliminates coupling and bearing problems associated with the misalignment of shafts and couplings.
Hollow Shaft Installation Sequence
No Testing Needed
No Special Tools
No Mounting Flanges or Couplings
EASY AS…
1. Install Stub Shaft

2. Slide M3 onto Shaft and Tighten Collar

3. Install Torque Arm

Upgrades
The hollow shaft mounting is also very effective for retrofits of existing motors when drive systems are upgraded and the older motors are retained. A complete inventory of shaft adapters to convert just about any motor for M3 compatibility is available from Avtron.
Shaft Grounding Kit
The M3 can be equipped with an integral shaft grounding brush. Shaft grounding brushes have been shown to be effective in reducing motor bearing problems associated with stray shaft currents.
The M3 shaft grounding brush is actually part of the M3 and rides directly on the M3 shaft. No modifications are needed to the motor shaft to use the M3 with the shaft grounding option. The shaft grounding option is available on both solid and hollow shaft designs.
M3 Part Numbers and Available Options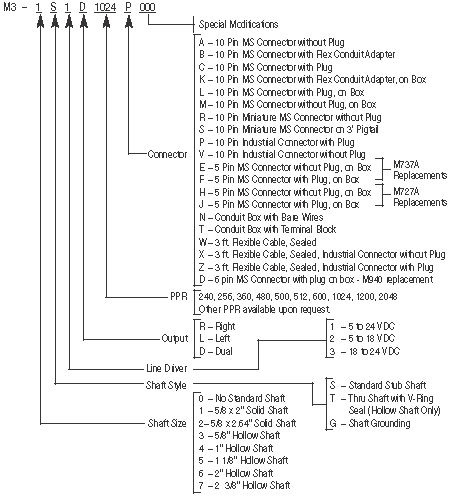 Specifications and features are subject to change without notice.
---
Call Joliet Technologies TODAY 
If you have any questions concerning Avtron's Tachs, Encoders, and Pulse Generators, please contact us by:
Phone (815) 725-9696,
Toll Free (866) 492-9888,
Fax (815) 725-9393 or
E-mail info@joliettech.com
---
Joliet Technologies custom packages, integrates and engineers AC Variable Frequency Drives (VFD), DC Variable Speed Drives (VSD) and AC Drive Controllers using top of the line manufacturers, like ABB, Emerson-Control Techniques, Siemens and Saftronics (Fincor). Our custom drive packages are built to your specifications for your application. We specialize in large horsepower drive systems (500Hp and above). Call us at (815) 725-9696 or fax us at (815) 725-9393 or e-mail us or fill out an RFQ with your requirements. Serving the greater Chicagoland area and the World.