Magnetek – Medium Voltage Soft Starters
HRVS-DN Features
Joliet Technologies is now offering the Magnetek Line of Soft Starters.
Magnetek HRVS-DN Medium Voltage Soft Starters 
Motor & Starter Protection 
Programmable maximum starts
Stall detection
Electronic overload with selectable curves
Electronic shear pin (jam)
Under current
Unbalanced current
Ground fault current
Phase loss and phase sequence
Over and under frequency
Under and over voltage
External faults (2 separate inputs)
Shorted SCR (Silicon Controlled Rectifier)
Load loss (motor not connected)
Over temperature
Power on without start signal
Open bypass contactor
Starting & Stopping 
Soft start and soft stop
Current limit
Pump control program
Torque and current control for optimized starting and stopping
Dual Adjust-2 start/stop settings for varying loads and two speed motors
Pulse start for high break-away torque
Linear acceleration (requires tach feedback)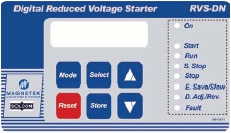 Interaction LCD Display
Select from four languages: English, French, German and Spanish
Control Circuitry 
Multi-function programmable I/Os
Opto-isolated control inputs
Three form "C" output relays, 8A/250VAC
"Immediate"-upon Start
"End of Acceleration"
"Fault" programmable as Trip or Trip-Fail safe
Analog output 0/4-20mA, 0-10VDC
Switchgear Options
Line Vacuum Contactor
Bypass Vacuum Contactor
Control Voltage: 110-220VAC, 110VDC
Special thick paint
MCT (Multi Cable Transit)
Fan system-increased cooling
Tin plated busbars
Halogen free and fire retardant materials
Main switch (On-load or Off-load)
Main fuses (with/without striker-pin indication)
Motor Protection Relay (MPR-2000 or MPC-2000)
C/T's and P/T's
Digital Power Meter (DPM-10)
L.V. control devices (selector switch, push buttons, indication lights)
NEMA rated enclosure Communication Protocols: Modbus, Profibus or Modbus-TCP/IP
Analog output card
OEM Chassis Kit or Complete System
The Magnetek HRVS-DN can be ordered as a chassis type power and control module, or as a complete turnkey system.
Copyright © 2004
Information Provided by:
Magnetek ICG
N49 W13650 Campbell Drive
Menomonee Falls, WI 53051
Toll Free: 800-288-8178
Fax: 262-783-3510
Call Joliet Technologies TODAY 
If you have any questions concerning Magnetek's line of Soft Starters or related products, please contact us by:
Phone (815) 725-9696,
Toll Free (866) 492-9888,
Fax (815) 725-9393 or
E-mail info@joliettech.com
---
Joliet Technologies custom packages, integrates and engineers AC Variable Frequency Drives (VFD), DC Variable Speed Drives (VSD) and AC Drive Controllers using top of the line manufacturers, like ABB, Emerson-Control Techniques, Siemens, Fincor, Avtron and Magnetek. Our custom drive packages are built to your specifications for your application. We specialize in large horsepower drive systems (500Hp and above). Call us at (815) 725-9696 or fax us at (815) 725-9393 or e-mail us or fill out an RFQ with your requirements. Serving the greater Chicagoland area and the World.