Field Service
Joliet Technologies field service department strives to meet and exceed our customers expectations. We know that breakdowns can occur at any time, which is why we provide a service engineer on call twenty-four hours a day, seven days a week. Our experienced service engineers can provide technical support via telephone or at your facility in a very short notice.
We are experienced in a variety of applications, and in many industries including, but not limited to:
Paper
Steel
Roofing
Rubber & Plastic
Marine
Dredging
Shredding
Mining/Quarries
We offer start-up and commissioning on all of our AC & DC drive systems. Coupled with our commissioning, we will provide training seminars on site, or at our facility for your company's key personnel. This will familiarize your employees with the new equipment and could, quite possibly, cut down on future service needs and prevent injury.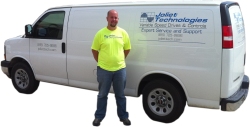 Our service personnel can provide on site assessments of most AC & DC drive systems. If an upgrade is needed, our field service and application engineers can retro-fit new "State of the Art" equipment into the existing cabinets (where possible) or provide new sections to match up to the existing line.
Our experience of drive manufacturers include:
Siemens
ABB
Fincor
Reliance
G.E.
Mentor
Cleveland Machine
Firing Circuit
Reflex
and many more…
If it's a drive, we know what makes it tick. Be it hardware, software or tools that are required, rest assured that Joliet Technologies will provide you with the complete solution.
Feel free to contact us with any questions you may have.
Field Service Rates (United States)