Magnetek – RVS-DX Digital Soft Starter

Joliet Technologies is now offering the Magnetek Line of Soft Starters.
Controls

Opto-isolated inputs
Auxiliary relays

Fault
End of acceleration or immediate (programmable)

Local and remote reset
RS485 Modbus serial communication (option)

Control, display, and programming

Generator Starting

RVS-DX offers a standard feature for starting from generator or weak main power supply
The generator starting feature incorporates auto-frequency tracking from 45 to 65 Hz.
Pump and Special Load Control
Magnetek Soft Starters eliminate several major problems:

WATER HAMMER DURING STOPPING
The Pump Control feature enables selection between three voltage ramp-down curves or a torque curve, preventing a stall condition which eliminates Water Hammer.
OVER-PRESSURE DURING STARTING
The Pump Control also enables selection between three voltage ramp-up curves, as well as a torque curve, to reduce peak torque. Current ramp is available for special loads.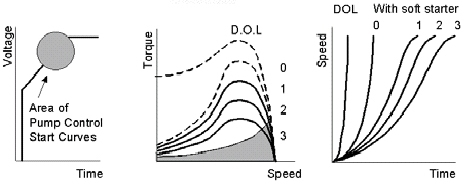 FINAL TORQUE FEATURE
Before completing the deceleration process, the motor torque may reach a level below the load torque and the check valve closes. The motor will continue to run against a closed valve (no load) until it stops. The Final Torque feature allows a set point where the motor stops when the check valve closes.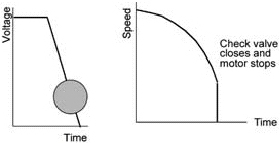 Copyright © 2004
Information Provided by:
Magnetek ICG
N49 W13650 Campbell Drive
Menomonee Falls, WI 53051
Toll Free: 800-288-8178
Fax: 262-783-3510
Call Joliet Technologies TODAY 
If you have any questions concerning Magnetek's line of Soft Starters or related products, please contact us by:
Phone (815) 725-9696,
Toll Free (866) 492-9888,
Fax (815) 725-9393 or
E-mail info@joliettech.com
---
Joliet Technologies custom packages, integrates and engineers AC Variable Frequency Drives (VFD), DC Variable Speed Drives (VSD) and AC Drive Controllers using top of the line manufacturers, like ABB, Emerson-Control Techniques, Siemens, Fincor, Avtron and Magnetek. Our custom drive packages are built to your specifications for your application. We specialize in large horsepower drive systems (500Hp and above). Call us at (815) 725-9696 or fax us at (815) 725-9393 or e-mail us or fill out an RFQ with your requirements. Serving the greater Chicagoland area and the World.