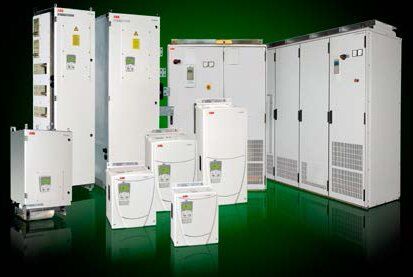 Low voltage DC drives
ABB DC Drives
DCS800, 10 to 4000 hp
DC Industrial Drives Overview
ABB DC Industrial Drives
The DCS800 DC industrial drive from ABB combines a powerful controller with a thyristor power platform that has been proven in factories all over the world. The DCS800 boasts a wider power range than any other DC drive on the market. The hardware and software are designed with you, the user in mind.
Special features make installation and configuration simple and allow you to customize the application to your needs.
Industrial Applications
The DCS800 can be used in a wide range of industrial applications including:
Metals
Electrolysis
Pulp & Paper
Ski lifts
Printing
Magnets
Material handling
Food & Beverage
Battery Chargers
Test rigs
Plastic & Rubber
Mining
DCS800 DC Drive Promises
The drive meets the requirements of the most demanding drive applications. Embedded software functions offer upgrades to all classic installations like 12-pulse, double motor operation, and field reversal.
Highlights
Reduced installation and commissioning work
Internal three phase field power supply without additional external hardware (D1-D5)
Excellent control performance up to highest dynamic application in field weakening operation
All ACS800 PC tools (via DDCS) can be connected
Able to be customized to your needs with Adaptive Programming and with option Control Builder
Flexible fieldbus system with numerous internally mountable fieldbus adapters
Virtually all DCS800 component parts are suitable for recycling.
Coated circuit boards as standard
PC Tool for ABB Drives
DriveWindow Light is an easy-to-use tool for your PC for start up and maintenance of your ABB drive. It is included with every DCS800 drive and has the following features:
User interface tool to view and set parameters
Startup Assistant tool
Adaptive Programming (AP) tool
It supports a wide range of ABB industrial drives, including ACS350, ACS550, ACS800, as well as the DCS800.
Main Features
Basic control

Transducer and transducerless operation
Macros to simplify setup
High-speed serial via Ethernet, ControlNet, etc.
On/Off control with pulsed or maintained inputs
Field heating
Adaptive Programming
Remembers two sets of motor parameters
Drive position display
Save parameter set to PC or keypad

Motor Control

Easily switches between local control via keypad and remote control via digital I/O or high-speed serial
Window speed control
Flying start
Field reversal, boost and opti-torque
Motor pot up and down control

Drive Configurations

Stand-alone
Master-follower (up to 10 followers)
12-pulse operation
Hard-parallel operation (D7 only)

Inputs and outputs

All user-designated inputs and outputs
Relay output for AC or DC contactor control
Motor brake control, including torque proving input
Motor temperature sensor monitoring
High speed DC breaker monitoring

Faults and Diagnostics

Fault logging with time and date stamp
Diagnostic assistant activates when fault occurs
---
© Copyright 2016 ABB. All rights reserved.
Specifications subject to change without notice.
ABB DCS800 DC Variable Speed Drives

---