As of March 26, 2010 Joliet Technologies is no longer representing the Avtron line of products.
We do however represent the Dynapar line of Rotary Feedback Products.
Avtron – Tachs, Tachometers, Encoders, Rotary Pulse Generators
Joliet Technologies is the preferred Avtron Integrator for the Chicagoland area.
Tachs, Tachometers, Encoders, Rotary Pulse Generators 
Rugged Environments
Severe Duty Applications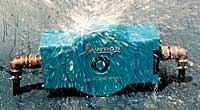 Click here to view M485 and M685 Brochures or Instruction Sheets.
If you have an application where there is a lot of water spray either with or without temperature cycling, you need our Heavy, Severe-Duty encoders. The M485 SMARTach (TM) and M685 SHAFTach (TM) Digital Pulse Generators, Tachs, Encoders have the features you need to perform in this type of environment. Viton shaft seals, potted electronics, stainless steel shaft components, gasketed connectors with o-ring seals on the sensor assemblies, and a baffled breather add up to a unit that will withstand the test of time. Special environmental specifications may also be available for these encoders to satisfy your application. Contact us for engineering assistance before selecting an encoder to use. We may have something already designed that will save you time and money over a custom built unit.
SMARTachTM and SHAFTachTM are trademarks of Avtron Manufacturing, Inc.
---
Call Joliet Technologies TODAY 
If you have any questions concerning Avtron's Tachs, Encoders, and Pulse Generators, please contact us by:
Phone (815) 725-9696,
Toll Free (866) 492-9888,
Fax (815) 725-9393 or
E-mail info@joliettech.com
---
Joliet Technologies custom packages, integrates and engineers AC Variable Frequency Drives (VFD), DC Variable Speed Drives (VSD) and AC Drive Controllers using top of the line manufacturers, like ABB, Emerson-Control Techniques, Siemens and Saftronics (Fincor). Our custom drive packages are built to your specifications for your application. We specialize in large horsepower drive systems (500Hp and above). Call us at (815) 725-9696 or fax us at (815) 725-9393 or e-mail us or fill out an RFQ with your requirements. Serving the greater Chicagoland area and the World.