| | |
| --- | --- |
| | |
[contact-form-7 id="4402″ title="Saftronics Replacement"]
(Obsolete) Saftronics PC10 Mini Vector AC Drives
(Obsolete FINCOR Series 5750)
Saftronics PC10 AC Drives are Obsolete and No Longer Available – They have been Replaced with the Saftronics CV10 Compact Vector AC Drives.
Options & Accessories
Palm Pilot Saflink Kit
KIT
Part No.
KIT Includes
Software
Part No.
Palm Pilot
Part No.
HotSync Cable
Part No.
RS485
Converter
Part No.
SAFLINK Cable
Part No.
046-7030
046-3030
046-9100
046-9018
*046-9024
GP10 / VG10
PC10
046-9016
018-3009
*(2) AAA Batteries (P/N G6001-10) are included
Function
To provide an economical, and portable means of using the Saflink program
with the PC10, GP10 or VG10
Feature
Ease of connecting to the drive in the most demanding environments.

HotSync with PC Saflink software (Future Version)

An economical means of implementing Saflink which allows you to:

Edit individual parameters

Load and save parameters

Compare parameters

Control the drive with built-in Digital Operator

Store / Retrieve parameter files

Monitor 4 independent signals

Automatically scan drive functions

Readout Diagnostics and History
Specifications
Palm Pilot Operating System – 3.5 and up
Connection Diagram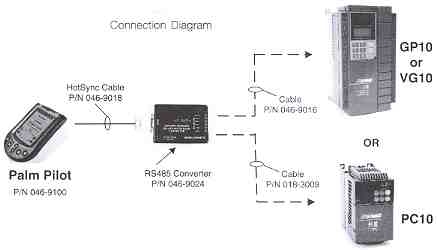 To purchase any Saftronics drives or information regarding Saftronics drives and Accessories, contact us at:
Phone (815) 725-9696,  Toll Free (866) 492-9888, Fax (815) 725-9393 or
E-mail info@joliettech.com
Need to run a 230V, 3Ph motor with 230V, 1Ph input?
Joliet Technologies is pleased to announce that we have the solution to run  most 230V, 3Ph motors with only 230V, 1Ph input!
For more info, contact us.