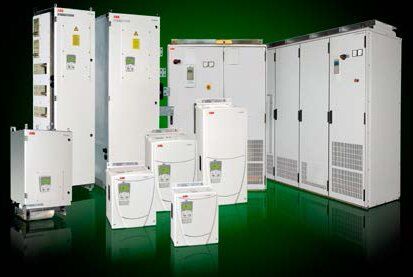 Low voltage DC drives
ABB DC Drives
DCS800, 10 to 4000 hp
Power Converter Modules
Enclosure Rating
The DCS800-S0x power converter module carries a NEMA TYPE OPEN (IP00) rating and must be mounted in a protective enclosure. There are seven different frame sizes, D1 through D7, graduated in terms of current and voltage.
Regenerative and Non-Regenerative Drives
Non-regenerative (2-Q) power converter modules are used when motor torque and speed are always in the same direction and when significant stopping power is not required.
This is ideal for applications such as:
Fan or blower
Mixer
Pump
Extruder
It is not possible for a 2-Q drive to slow down an inertial load.
The load will stop only due to friction, windage, or another form of load resistance. It is also not possible for a non-regenerative drive to reverse direction unless field reversal is used.
Regenerative (4-Q) power converter modules are used when motor torque can occur in either direction. This is for applications such as:
Stop-start conveyor
Draw Roll
Rolling mill
Unwinder
Overhead crane hoist
A 4-Q drive is able to start and stop an inertial load in both forward and reverse directions.
Field Power Supplies and Fusing
Converter modules sizes D1 through D5 are equipped with fused internal field power supplies. Sizes D6 – D7 require an external field power supply. See page 21 for details.
AC line fuses and DC armature fuses must be separately mounted. See page 24 for fuse information as well as information on other optional system components.
AC line fuses to be separately mounted on sizes D1 – D4.
They are included internally on D5 – D7. DC armature fuses are needed for all 4-Q drives and are to be separately mounted.
See page 26 for fuse recommendations as well as specifications for other external system components.
Voltage Selection
The output voltage of the drive depends on the incoming AC line voltage and whether a 2-Q or 4-Q drive is selected. The table below shows the maximum output voltage that will result for various input voltages for both the 2-Q and 4-Q drives.
System input AC line voltage
DC voltage (recommended)
Ideal DC voltage without load
Recommended DCS800 voltage class type code
2Q
4Q
UVN
[V]
Udmax 2-Q
[V]
Udmax 4-Q
[V]
Udi0
[V]
230
 265
 240
310
 05
380
 440
 395
 510
 05
400
 465
 415
 540
 05
415
 480
 430
 560
 05
440
 510
 455
 590
 05
460
 530
 480
 620
 05
480
 555
 500
 640
 05
500
 580
 520
 670
 05
525
 610
 545
 700
 05 (D1-D4), 06
575
 670
 600
 770
 06
600
 700
 625
 810
 06
660
 765
 685
 890
 07
690
 800
 720
 930
 07
800
 915
 820
 1060
 08
990
 1160
 1040
 1350
 10
1200
 1380
1235
 1590
12
The maximum output voltage of a 4-Q drive can be increased up to the level of Udmax 2-Q if the torque reversal time from motor to regenerative mode is set above 300 ms.
Low Mains Voltage – (30 to 120 V) SDCS-SUB-4 (+S186)
External DC Voltage Measurement – Measures Vdc at the motor; (D1-D4) SDCS-UCM-1; (not needed D5-D7)
Analog, Digital and Encoder Interface
The drive is equipped with high-speed, high-resolution analog inputs and outputs to interface with user signals. Analog inputs are 16-bit resolution (15 plus one sign bit) which is the highest resolution in the industry.
The following interfaces are standard features:
Analog DC tachometer
Pulse encoder
Motorized pot, speed pot and up to two analog meters
Optional modules are available to increase the number of analog, digital, tachometer, and encoder interfaces and to add isolated interfaces for temperature sensors and other devices.
---
© Copyright 2016 ABB. All rights reserved.
Specifications subject to change without notice.
ABB DCS800 DC Variable Speed Drives

---