As of March 26, 2010 Joliet Technologies is no longer representing the Avtron line of products.
We do however represent the Dynapar line of Rotary Feedback Products.
Avtron – Tachs, Tachometers, Encoders, Rotary Pulse Generators
Joliet Technologies is the preferred Avtron Integrator for the Chicagoland area.
Tachs, Tachometers, Encoders, Rotary Pulse Generators 
NEMA C Face Mounting
NEMA 56C and 5 PY Mounted Encoders
Avtron offers many different encoder styles to fit nearly every installation requirement. Many older installations used the NEMA 56C face or foot mounted tachogenerator like the GE BC-42 and BC-46 or Reliance RE-210. Upgrading these installations is easy with Avtron foot or face mount encoders. Use Thomas CCX Couplings (below) for best performance.
For NEMA 56C Face or Foot Mount:
(For more information on these encoders… go to Sales Literature PDF Download Page.)
M727
M737
M738
M785
M938
M940
For NEMA 56C Face Mount or Foot Mount with optional bracket:
(For more information on these encoders… go to Sales Literature PDF Download Page.)
Many Reliance Electric Installations used resolvers on 2.5″ 5PY flanges.
For 5PY Mounted Encoders:
(For more information on this encoder… go to Sales Literature PDF Download Page.)
Any of the above installations may be retrofitted with shaft tachs by removing the adapter flanges and couplings from the motors and mounting an M3 Universal Encoder or M585/M685 SHAFTach (TM) to the existing motor or stub shaft.
SHAFTachTM is a trademark of Avtron Manufacturing, Inc.
---
Thomas Miniature Couplings*
Thomas Miniature Flexible Disc Couplings
Material Specifications for Standard Couplings:
Hubs and center member: Aluminum alloy, anodized.
Rivets: Brass.
Washers: Brass.
Discs: Stainless Steel
Set Screws: 18-8 stainless steel, passivated.
Guide to Proper Designation of Hubs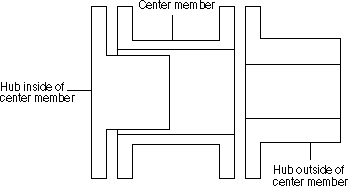 Style CC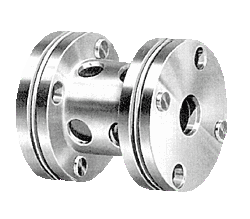 This coupling has both hubs inverted and is designed to fit shafts normally encountered at a given torque range. Ideal for use where space limitations require close coupling of the shafts.
General Dimensions (inches)

Size No.
A
B
C
F
T
Torque Capacity (lb. -in.)
12
1/2
1/4
1/32
17/32
0.018
1.1
18
3/4
3/8
1/16
13/16
0.023
2.2
25
1
1/2
1/16
1 1/16
0.025
4.7
37
1 7/16
11/16
1/8
1 1/2
0.035
19.0
50
1 3/4
15/16
1/8
2
0.045
75.0
62
2 1/4
1 1/16
1/8
2 1/4
0.060
300
75
2 1/2
1 3/16
1/8
2 1/2
0.060
440
100
3
1 3/8
1/4
3
0.060
700

Torque capacities are based on smooth drives with moderate torque fluctuations. Reduce ratings to 1/3 the value shown for severe applications such as indexing drives where torque reversals occur.
All Thomas disc couplings meet NEMA frame sleeve bearing motor specifications without modification or the addition of end-float restricting devices.
*Information from Rexnord's Catalog "Thomas Flexible Disc Couplings"
Rexnord Corporation
Thomas Coupling Division
Warren, PA, USA
www.rexnord.com
Phone: 814-723-6600
---
Call Joliet Technologies TODAY 
If you have any questions concerning Avtron's Tachs, Encoders, and Pulse Generators, please contact us by:
Phone (815) 725-9696,
Toll Free (866) 492-9888,
Fax (815) 725-9393 or
E-mail info@joliettech.com
---
Joliet Technologies custom packages, integrates and engineers AC Variable Frequency Drives (VFD), DC Variable Speed Drives (VSD) and AC Drive Controllers using top of the line manufacturers, like ABB, Emerson-Control Techniques, Siemens and Saftronics (Fincor). Our custom drive packages are built to your specifications for your application. We specialize in large horsepower drive systems (500Hp and above). Call us at (815) 725-9696 or fax us at (815) 725-9393 or e-mail us or fill out an RFQ with your requirements. Serving the greater Chicagoland area and the World.