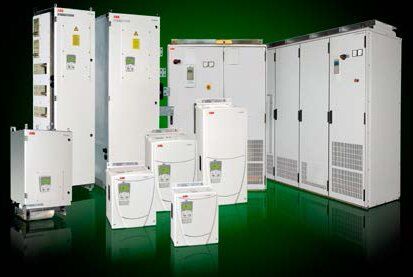 Low voltage DC drives
ABB DC Drives
DCS800, 10 to 4000 hp
DCS800 Panel Drive
The DCS800-EPx Panel Drive is a DCS800 power module and associated system components mounted and wired on a sub-panel and ready to be installed into an industrial enclosure.
System components include AC input fuses, DC output fuses (regen only), control transformer, AC contactor, plus optional components. The drive is designed to easily replace a Reliance Electric® FlexPak® 3000 drive.
Product Offering
460 Vac, factory or field convertible to 230 Vac
10 to 500 HP with heavy duty overload ratings (150 pct for 60 sec.)
600 HP with normal duty ratings (110 pct for 60 sec.)
Integral ABB AC contactor
UL Listed with 65 kA SCCR
Panel Drive Benefits
Space efficient multilevel panel
Easy to maintain
Pre-wired, pre-tested solution for smooth start ups
Greatly simplifies the procurement process
Module can be replaced without replacing the entire panel
Optional Features
Option
Size
Option Code
Integral line reactor *
Up to 150 hp
+E213
ABB Tmax MCP circuit breaker
+F278
ABB A-line blower motor contactor & overload
Blower from 1/2 to 15 hp
+M611 –
+M641
Without AC contactor
+0F250
230 Vac supply
+S235
*Reactor or isolation transformer required!
DCS800 Power Module Benefits
Highly reliable DCS800 module drive
Integral field supply, including field weakening
Control Panel with 5-line display and 2 soft keys
DriveWindows Light PC tool included
Excellent Reliance® FlexPak® 3000 Retrofit Drive
Same bolt pattern
Similar features
Fits within FlexPak® 3000 clearance area
ABB's Replacement Guide (DCS800-PHTG01U-EN) makes conversions go smoothly
---
© Copyright 2016 ABB. All rights reserved.
Specifications subject to change without notice.
ABB DCS800 DC Variable Speed Drives

---