ABB DC Drives

DCS 500
Digital DC Drive
25 to 5150 A
220…1000 V, 3-phase
Regenerative / Non-regenerative
Future Performance Now

-With a New Generation DC Drive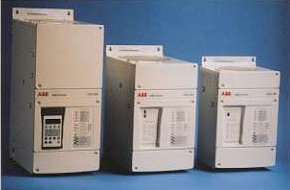 Technical data
Converter Ratings:
Rated Voltage:
220…1000 V ±10% AC
Input Voltage Phase:
3 Phase AC
Rated Frequency:
50/ 60 Hz
Dynamic Frequency Range:
45…65 Hz
DC current:
25…5150 A
Short term Overload Capacity:
150% for 1 minute
Operating Limits:
Ambient temperature:
+5… +40°C (+40…104°F)
Storage temperature:
-40… +55°C (-40…130°F)
Relative humidity:
95% non condensing
Enclosure:
Enclosure Classes:
Chassis Converter Module NEMA 1 Enclosure
Standard I/O Connections:
8 Digital Inputs
>8 Digital Outputs
4 Analog Inputs
3 Analog Outputs
1 Tachometer Input
1 Encoder Input
Optional I/O-boards are available to provide more flexibility and tailored solutions.
Protection:
Speed Feedback Loss
Motor Overtemperature
Motor Overload
Motor Overspeed
Motor Stall
Armature Overcurrent and Current Ripple
Armature Overvoltage
Loss of Field Current
SCR Overtemperature
Main Supply Overvoltage
Auxiliary Supply Overvoltage
Incorrect Pahse Sequence
ABB's DCS 500 Digital Drive is designed to be used in both simple and complex applications. Advanced Control panel operation and easy Application Block Programming make the drive flexible and user friendly.Advanced Technology
The DCS 500 takes advantage of ABB's extensive experience in DC drives. High quality components together with the latest production technology guarantee reliable operation and customer satisfaction. Performance with flexibility for industrial or commercial applications.
Flexible Operation
The DCS500 can be controlled and monitored from either a PC-based Commissioning and Maintenance Tool or from a Control Panel which can be moved from one drive to another.
Drive applications can easily be changed with programmable function blocks. Application programs allow the drive to be configured without additional hardware. Changes can easily be made via the Control Panel.
Standard Features
Autotuning for Armature and Field Current
Two Adjustable Ramp Generators
EMF, Tachometer, or Encoder Feedback
Application Function Block Programming
Adjustable Torque Limitation
Torque Window Control
Brake Control
Operational Features
Removable Control Panel
External Digital Field Supply
Interface to programmable Controllers and Automation Systems
WindowsTM based Programming Tool (GAD) and Commissioning and Maintenance Tool (CMT)
External Isolated I/O boards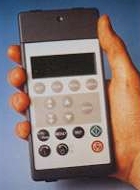 With removable Control Panel, several converters can be programmed with a single panel.(The technical data is valid at the time of printing. ABB reverses the right to subsequent alterations.)
Type

DC Current
Supply Voltage
1Q
4Q
220-
500 V
525-
600 V
625-
690 V
700-
790 V
800-
1000 V
DCS 50x-0025
24
24
DCS 50x-0050
44
44
DCS 50x-0075
75
60
DCS 50x-0100
86
96
DCS 50x-0110
87
87
DCS 50x-0140
95
140
DCS 50x-0200
134
149
DCS 50x-0250
159
177
DCS 50x-0270
213
213
DCS 50x-0350
240
267
DCS 50x-0450
316
352
DCS 50x-0520
360
398
DCS 50x-0700
556
556
DCS 50x-0900
684
684
DCS 50x-1200
888
888
DCS 50x-1500
1200
1200
DCS 50x-2000
1479
1479
DCS 50x-2050
1502
1502
DCS 50x-2500
2402
2402
DCS 50x-2650
2058
2058
DCS 50x-3200
2551
2551
DCS 50x-3300
2416
2416
DCS 50x-4000
2977
2977
DCS 50x-4750
3734
3734
DCS 50x-5150
3796
3796
DCS 50x Converter Module (x=1 for 1Q drives, x=2 for 4Q)
DCS 500 Control Board and I/O Connection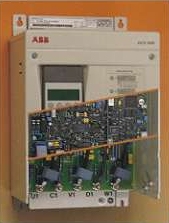 ABB Industrial Systems, Inc.
16250 West Glendale Drive
New Berlin, WI 53151-2840
Telephone:

(800) 752-0696
(414) 785-3416

Telefax:

(414) 785-8525
DCS 500 US-00
EFFECTIVE 5/1/94
NEW