"Frontier Driller" Offshore Oil Rig 10 DC Drive Bays, 4 Generator Control Bays and much more…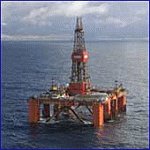 The name of the vessel is the Frontier Driller. It is an older rig that is being completely re-furbished with new equipment. Joliet Technologies is responsible for the DC Drives, Generator Controls, Switchgear, MCC's (Motor Control Centers), PLC's (Programmable Logic Controls), Transformers, Driller's Console and Mud Pump Console.
Model GCS-407 Generator Control system on board the Semi Submersible Rig "Frontier Driller"
System Overview
The model GCS-407 Generator Control System is designed to control the speed of the four EMD model 16 645E9B diesel engines via a Woodward model PG 12R actuator on each unit using a industry standard Woodward model 2301D Digital Load Sharing and Speed Control. The voltage each of the AC Generator model AB20-6 is controlled using an industry standard Basler model DECS-200 Voltage regulator for each generator. Two modes of syncing the generator with the bus are provided for each unit. The first mode is automatically via an industry standard Woodward GCP-31 Genset Control Package. The second mode is manually via a sync scope and Veri-Sync relay.
Power Systems
The Generator Control System components are powered from new circuit breakers fed from redundant 24 VDC battery chargers and battery banks. Individual Circuit Breakers in the Generator Control Cabinets power each different control component. Each sub system component has a dedicated circuit breaker located in the Generator Control cabinets.
The photo above was taken in Jume 2007. Since that time the generator control bay cabinets have been completed, tested at our facility and shipped to the shipyard in Mississippi for installation and commissioning.
---
Generator controls are critical components of offshore oil drilling operations. They are responsible for controlling the output of the generators that provide power to the drilling equipment, as well as monitoring the electrical system to ensure it operates safely and efficiently. There are several key features that are important when selecting generator controls for offshore oil drilling applications.
Firstly, reliability is crucial in offshore drilling environments, where equipment must withstand harsh conditions such as extreme temperatures, high humidity, and corrosive saltwater. Generator controls must be rugged and durable, with robust hardware and software components that can withstand these conditions.
Secondly, generator controls must provide precise control over the output of the generators. This is essential to maintain a consistent and reliable power supply to the drilling equipment, as well as to prevent damage to sensitive electronics.
Thirdly, generator controls must be designed to operate in hazardous environments, where the risk of explosion or fire is high. They must be certified to meet the relevant safety standards, such as the ATEX directive in Europe, which governs the use of equipment in potentially explosive atmospheres.
Finally, generator controls must be easy to use and maintain, with intuitive interfaces and diagnostic tools that enable operators to quickly identify and resolve any issues that may arise.
Generator controls are essential components of offshore oil drilling operations, providing precise control over the output of the generators that power the drilling equipment. To be effective in this environment, they must be rugged, reliable, and safe, with intuitive interfaces that make them easy to use and maintain.
To get a Quote for your specific requirements,
Contact Joliet Technologies today.
Call (815-725-9696),
Toll Free (866) 492-9888,
Fax (815-725-9393) or 
E-mail your requirements and we will prepare a detailed quote for your application.
Or fill out a Request for Quote.