DCS 400
Digital DC Converter
20 to 1000A DC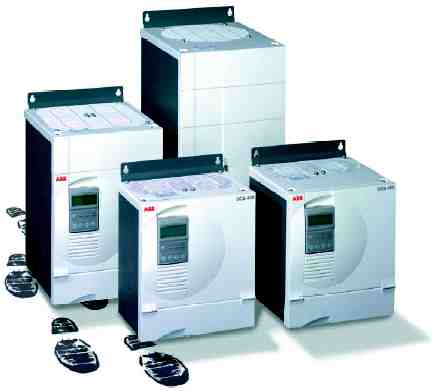 Introducing the world's most competitive DC package
ABB has developed a user-friendly drive system package (DCS 400, DMI Motor) to meet the demands of machine builders.Our aim is to offer the best combination of reliable products at the most affordable price, backed by on-time delivery, good partnership and fast response to inquiries. At the heart of the drive package is the DCS 400 – a new generation of DC drives specifically designed to meet the ever-changing needs of machine builders."Total ease of use" was the foundation of this drive's development. The result is a drive that is:
as easy to handle as an analog drive yet incorporates all of the features of a digital drive.
easy to design into machine equipment, with just the right amount of features.
easy to install and set-up, even by those without special drives experience.
Small Design
The DCS 400's compact design brings substantial space savings to machine builders, allowing them to integrate more accessories within the same space.
Existing DC drives are easily replaced with the DCS 400.
At only 103.4 in (270 mm) wide, and with all the power cabling located at the base of the drive rather than the side, two DCS 400 units can be installed inside the same 233.4 in (600 mm) cabinet.
The field supply, including the fuse and choke, are integrated into the DCS 400, further contributing to its small size and simplicity of design.
No need for a field voltage adaptation transformer to match the line supply voltage with that of the motor. The DCS 400 uses fewer components, leading to both smaller size and greater reliability.
Technical Features
Digital 6-pulse converter
10 – 600 Hp (10 – 448 kW)
20 to 1000 A DC
Input Voltage from 230 to 500 V, 50/60 Hz
Nonregenerative & regenerative drives available
IGBT – field supply for field weakening is included
Supply Voltages

Power and Field:

230 – 500 VAC, 3-phase

Input Frequency:
50 – 60 Hz
Converter Fan:
115/230 VAC, single-phase
Control Power:
115/230 VAC, single-phase
Control I/O

Digital Inputs:

Eight (8), 24 VDC

Digital Outputs:
Four (4), 24 VDC
One (1) relay
Analog Inputs:
Two (2), ±10 VDC, 12 bit
Analog Outputs:
Two (2), ±10 VDC, 12 bit
Power Spectrum, 2Q, Non-Regenerative
Module
Type
Armature Current Range (A)
Field Current (A)
kW
HP
A1
20, 45, 65, 90, 125
0.1 to 6
12 to 73
10 to 75
A2
180, 230
0.3 to 12
104 to 133
100 to 125
A3
315, 405, 500
0.3 to 14
183 to 290
175 to 300
A4
610, 740, 900
0.3 to 20
354 to 402
350 to 539
Power Spectrum, 4Q, Regenerative
Module
Type
Armature Current Range (A)
Field Current (A)
kW
HP
A1
25, 50, 75, 100, 140
0.1 to 6
13 to 73
10 to 75
A2
200, 260
0.3 to 12
104 to 135
100 to 150
A3
350, 450, 550
0.3 to 14
182 to 290
200 to 300
A4
680, 820, 1000
0.3 to 20
354 to 448
400 to 600
The total integrated package for machine builders
Fieldbus Adapters
Multiple serial communication options allow integration with higher level control systems.
DC Converters
DCS 400 6-pulse converters offer accurate torque and speed control in the low power range. Simplicity of operation is a hallmark of the drive.
DC Motors
ABB's family of DC motors offer a compact, modular design, combined with low vibration and noise levels as well as high output and energy efficiency.
Speed Feedback
A variety of speed feedback devices can be used with PowerPack and are standard features of the DCS 400.
The user is guided through the commissioning procedure by following simple steps that are outlined by the alpha-numeric control panel.
An alternative to the control panel is ABB's PC-based program, DriveWindow Light, used for guided on-line commissioning, including:
Parameter setting
Reference display and feedback values
Trending
On-line help files
The easiest drive to install…
Reduced Wiring
By fully integrating the field supply, ABB's engineers have been able to patent a design with three wires in and four wires out, reducing wiring and requiring less installation time.
Fast and Easy Installation
ABB's DCS 400 cuts costs and installation time by incorporating the following features:
A simple, step-by-step installation guide
Bottom plate cable entry, providing rapid and easy access to power terminals
Easy to access I/O connection points via bottom cover plate
The drive's ability to operate directly on any worldwide voltage from 230 – 500 V, 50/60 Hz main, 115 – 230 V aux.
The fastest drive to commission…
Commissioning Wizard
The DCS 400 is the first digital drive which can be commissioned without special knowledge of drives. More importantly, the commissioning and start-up time is dramatically faster than that of other DC drives.
The wizard uses either the drive's control panel or ABB's commissioning tool, DriveWindow Light, which is based on RS232 communications using a standard plug (see illustration above).
Once the motor and process data have been entered into the drive, the user is guided through commissioning using the self-tuning functions for armature current, speed, flux and field current.
No additional documentation or hardware is needed to commission the DCS 400.
Application macros that require setting only a few user-selectable parameters make the commissioning of specific applications easier compared to the several hundred parameters that must be set with other DC drives.
Module
Type
Height
in (mm)
Depth
in (mm)
Width
in (mm)
A1
12-1/2 (310)
8 (200)
10-3/4 (270)
A2
12-1/2 (310)
10-3/4 (270)
10-3/4 (270)
A3
15-3/4 (400)
12-1/2 (310)
10-3/4 (270)
A4
23 (580)
13-3/4 (345)
10-3/4 (270)

ABB Industrial Systems, Inc.
16250 West Glendale Drive
New Berlin, WI 53151-2840
Telephone:

(800) 752-0696
(414) 785-3416

Telefax:

(414) 785-8525
All specifications are subject to change without prior notice.