MOTORTRONICS
VMX Series
Compact Low Voltage
Soft Start Starters

Ratings from 18A to 1250A
(up to 1200Hp)
240VAC and 480VAC

Integrated bypass contactor
Advanced motor protection
Narrow-width for MCC mounting
Low-profile for use in pump panels
Remote keypad mounting
Unique built-in features
VMX Series Control and Features
The control & protection you expect in an innovative soft strter design…
with the advantages of selectable control & unique built-in features
Flexibility of Control
Multiple ramp profiles, Pump-FlexTM Decel, process control timers and advanced motor protection make the VMX Series soft starter adaptable to a wide variety of AC motor applications… no need for add-on modules or costly auxiliary devices.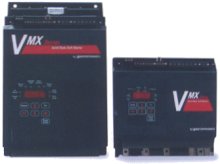 Compact packaging has become critical in more and more electrical installations. The VMX Series meets this need without compromising features and ratings. By using a highly engineered packaging design and the latest generation microprocessor, all the control and protection features you need are in the VMX Series. Narrow and shallow dimensions are perfect for integrating the VMX Series into motor control centers (MCCs), pump control panels, and retrofit
starter enclosures.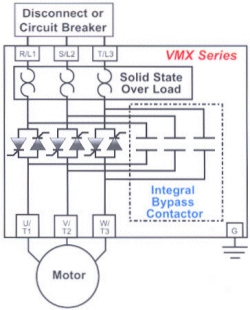 Integral Bypass Contactors are standard on all sizes and provide maximum efficiency of panel space while maintaining the Motortronics reputation for being able to soft start most any load. The VMX Series is the only fully integrated, compact, world-class design offering uncompromised power and control capabilities.
Choose the ramping method that works best for your load…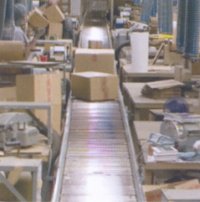 Pumps, Fans, Blowers & Conveyors
Closed loop Torque /Current (CLT™) Ramping provides a linear increase in output torque during acceleration. It maximizes the available torque using an internal PID feedback loop, insuring a smooth, linear ramp up to full speed. Ideal for low pressure pumps where slight surges at the end of ramp may pose mechanical problems or on fans and mixers where blade warping can be an issue.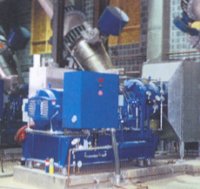 Compressors & Chillers
Voltage Ramp with Current limit for applications that need the smoothness of voltage ramping while maintaining the ability to start in limited power environments,
For maximum motor power where the available power supply is severely limited, a Current Limit/Current Step start can be used.
Eliminate the damaging effects of "Water Hammer" A gradual reduction in the output torque of your pump motor is provided when a stop signal is initiated. When the motor output reaches a point where the check valve can be safely and gently closed, the Pump-Flex™ circuit automatically turns itself off.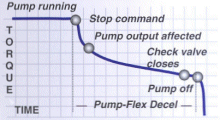 Pump-Flex™ Decel…
Experience the Difference!
Since no two pumps or pump applications are exactly the same, the flexible settings of Pump-Flex™ decel control allow you to tailor the output to precisely match your application requirements.
No need for external timers or auxiliary controls.
The VMX Series also includes…
Process Control Timer
Ideal for irrigation pumps when a specific amount of water needs to be pumped even if a power failure or a fault trip occurs during operation
24 houri 7 dayTime Clock Controller Built-in time clock with selectable days-to-minute feature
Batch Process Timer Run for a set time after starting, even after power outage
When traditional electro-mechanical motor controls are used,motor torque is immediately lost when the power is turned off. The fluid that is flowing through the system, and the kinetic energy associated with it, immediately reverses direction. To prevent the reverse flow, a check valve typically is slammed shut, trapping the kinetic energy in the piping system.This shock wave, often referred to as "Water Hammer," is no longer a problem when you use Pump FlexTM decel control.
Minimize maintenance costs & downtime By gradually reducing motor torque using Pump-Flex™ decel control, the potentially destructive pump output pressure is allowed to slowly dissipate in the system during the stopping process. Check valves close gently and other fluid system components including pipes, valves, flanges, couplings and are no longer subjected to shock and destructive potential of water hammer.
Metering
Elapsed time meter, run cycle counter, remaining lock-out time and fault history for maximum control and status of your pumps or processes.
Contact Joliet Technologies for pricing,
availability and freight options.
Phone: (815) 725-9696 or
Toll Free: (866) 492-9888
Fax: (815) 725-9393
E-mail: info@joliettech.com
RFQ – Request for Quote