MOTORTRONICS
Medium Voltage
Solid State Soft Starter

5kV, 7kV and 15kV Class

Advanced motor control, protection and monitoring in a reliable, field-proven soft starter




Applications and Control
Start it Soft… Work it Hard!
Choose the acceleration ramp that is best for your application with the flexibility of microprocessor based ramp control.
Pumps, Fans, Blowers & Conveyors
Closed Loop Torque (CLTTM) using PID algorithms is ideal for deep well pumps or systems where the load conditions change from one start to the next.
Linear Speed Ramping can be achieved by adding a tachometer feedback signal from the motor.

Compressors & Chillers
Voltage Ramp with Current Limit for applications that need the smoothness of voltage ramping while maintaining the ability to start in limited power environments.
For maximum motor power where the available power supply is severely limited, a Current Limit/Current Step start can be used.

Process Machinery
The Jog function can be used in initial machine setup. Apply just enough voltage/torque to rotate the motor shaft without accelerating to full speed.
Dual ramps are built-in, allowing for different load conditions and ramping requirements.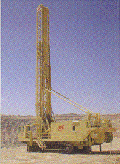 Generator Powered & Mobile Equipment
Protect the integrity of your process even when power conditions are less than perfect.
Reliable SCR firing even during frequency drift that may occur with portable equipment or backup generators.
No need for reactors, regardless of motor lead length or system capacity.
Pump-FlexTM Control
for Soft Starting & Soft Stopping
Custom Acceleration Curves can be programmed to match your pump and hydraulic conditions. Select up to eight time and torque points for smooth acceleration of your pump without surges or undue motor thermal stress.
Three selectable custom curves can be programmed to accommodate changing load/pump conditions or for different processes.Pump-FlexTM Decel Control is a standard feature of the MVC Plus Series and a key reason for choosing Motortronics solid state soft starters over other more traditional methods of motor control.Experience the difference – Pump-FlexTM Decel A gradual reduction in the output torque of your pump motor is provided when a stop signal is initiated. When the motor output reaches a point where the check valve can be safely and gently closed, the Pump-FlexTM circuit automatically turns itself off. No need for external timers or auxiliary controls.

Unique to Solid State Starters
Eliminate "Water Hammer"
Minimize Downtime
Reduce Maintenance Costs
Eliminate the damaging effects of "Water Hammer" When traditional electro-mechanical motor controls are used, motor torque is immediately lost when the power is turned off. The fluid that is flowing through the system, and the kinetic energy associated with it, immediately reverses direction. To prevent the reverse flow, a check valve typically is slammed shut, trapping the kinetic energy in the piping system. This creates a shock wave often referred to as "Water Hammer."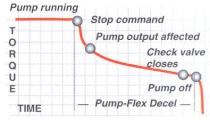 Maximize performance Since no two pumps or pump applications are exactly the same, the flexible settings of Pump-FlexTM decel control allow you to tailor the output to precisely match your application requirements.
Minimize maintenance costs & downtime By gradually reducing motor torque using Pump-FlexTM decel control, this potentially destructive pump output pressure is allowed to slowly dissipate in the system during the stopping process. Check valves close gently and other fluid system components including pipes, valves, flanges, couplings and hangers are no longer subjected to the shock and destructive potential of water hammer.
Contact Joliet Technologies for pricing,
availability and freight options.
Phone: (815) 725-9696 or
Toll Free: (866) 492-9888
Fax: (815) 725-9393
E-mail: info@joliettech.com
RFQ – Request for Quote