ABB Component Drives
ACS150, 0.5hp to 5hp Technical Guide
ABB ACS 150 Component Drives
Choice 1: Simply contact your local ABB drives sales office and let them know what you want. Use page 4 as a reference section for more information.
OR
Choice 2: Build up your own ordering code using the simple 7-step approach below. Then, contact your local ABB Drives sales office.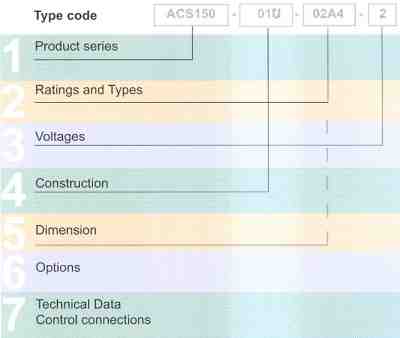 Contact Joliet Technologies for ABB ACS150 Component Drives.
Phone: (815) 725-9696 or
Toll Free: (866) 492-9888
Fax: (815) 725-9393
E-mail: info@joliettech.com
RFQ – Request for Quote
ABB ACS 150 Component Drives
What is an ACS150 component drive?
The ABB component drives meet the requirements of OEMs, system integrators and panel builders. It is a component that is bought together with other components. The drive is stocked, and the number of options and variants are optimized for distribution.
Where can it be used?
ABB component drives are designed to meet the requirements of an extensive range of machinery applications. The drive is ideal for food and beverage, material handling, textile, printing, rubber and plastics and woodworking applications.
Highlights
FlashDrop- easy to set and select parameters
Integral operator interface – clear display with buttons
Integral potentiometer for frequency setting
Integrated EMC filter for 2nd environment
Built-in brake chopper as standard
Coated boards as standard
Unified height and depth
Features
Benefits
Notes
FlashDrop
Easy and time-saving.
Cost-saving for machine builders.
Fast and trouble free parameter set up without power.
Fixed interface
Integrated non-removable control panel.
Clear LCD display with backlight and buttons.
Simple to use
Fixed potentiometer
Integrated potentiometer.
Settings shown on the control panel
Easy speed setting.
Built-in EMC filter
No extra space, parts, time and cost required
2nd environment built in filter complying with IEC61800-3 as standard
Built-in brake chopper
Reduced cost.
Gives freedom to choose the resistor supplier.
100% braking capability.
Flexible installation
All units fit in the same sized cabinet
Unified height and depth for all frame sizes for optimal use of cabinet space.
Sideways, side by side and DIN-rail mounting configuration
Coated boards
Longer lifetime in hostile environments.
Reduced service.
Protection against moisture and hostile particles as standard

© 2006 ABB Inc. ACS150-PHTC01U-EN REV B, Effective: 12/1/05.
Specifications subject to change without notice.