| | |
| --- | --- |
| | |
[contact-form-7 id="4402″ title="Saftronics Replacement"]
(Obsolete) Saftronics PC10 Mini Vector AC Drives
(Obsolete FINCOR Series 5750)
Saftronics PC10 AC Drives are Obsolete and No Longer Available – They have been Replaced with the Saftronics CV10 Compact Vector AC Drives.
Options & Accessories
PC10 120 VAC Option Card
Part number – 100-0160-01
Function
Designed to provide a hardware interface between the users' 120 VAC input control circuitry and the Saftronics PC10 inverter. It has 5 control inputs plus FWD and REV with screw type termination.
Specifications
Input –
Control voltage: 120 VAC RMS
Input Resistance: 23 ohm
Isolation Voltage: 5 Kvac
Connection Diagram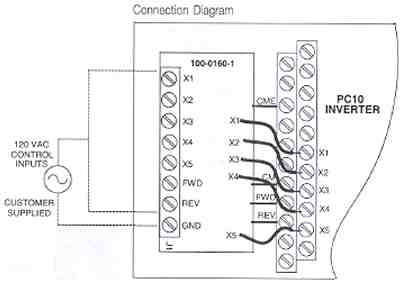 To purchase any Saftronics drives or information regarding Saftronics drives and Accessories, contact us at:
Phone (815) 725-9696,  Toll Free (866) 492-9888, Fax (815) 725-9393 or
E-mail info@joliettech.com
Call for availability of drives, and freight options. 
All prices are subject to change without notice.
Need to run a 230V, 3Ph motor with 230V, 1Ph input?
Joliet Technologies is pleased to announce that we have the solution to run  most 230V, 3Ph motors with only 230V, 1Ph input!
For more info, contact us.