(Obsolete) Saftronics VG10 – Dynamic Torque Vector AC Drive
(Obsolete FINCOR Series 6600)
Options & Accessories

Synchronized Operation Card (VG10 only)

For Drive Dimension Sheets, contact Joliet Technologies
Basic Connection Diagrams
For Spare Parts, contact Joliet Technologies
Options & Accessories
Name
Synchronized operation card (VG10 only)

---

Part Number

---

Function
To perform position control by pulse train input, synchronized operation of 3 motors (wait-and-synchro nize operation, simultaneous-start-and-synchronize operation, and proportional speed ration operation).

---

Specifications

Control
Speed Control Range
1 : 1200 RPM (3 to 3600r/min)
Maximum speed
3600 r/min (120 Hz)
Speed Control accuracy
+1-0.02%
Speed Control response
40 Hz
Applicable encoder (generator)
No. of output pulses: 20 to 3000 P/R /VB phase (incremental)
Maximum response frequency: 100 kHz
Wiring length: 100m (totem pole) 1 20 (open collector)
 Pulse output method: Totem pole 1 open collector. Output current 7mA or more.
Input Terminal

| | |
| --- | --- |
| XA, XB, CM | Connect A- and B-phase output signal of master rotary encoder |
| XZ, CM | Connect Z-phase output signal of master rotary encoder |
| YA, YB, CM | Connect A- and B-phase output signal of feedback or master rotary encoder |
| YZ, CM | Connect Z -phase output signal of master rotary encoder |

Output Power Source
None

(1)

Use external power source when more than one PG feedback cards are used and the total input current exceeds 120mA.

(2)

Take note of the power source matches the specifications of the applied rotary encoder.

---

Connection Diagram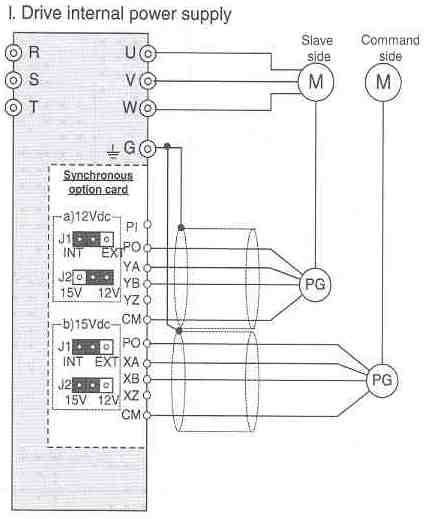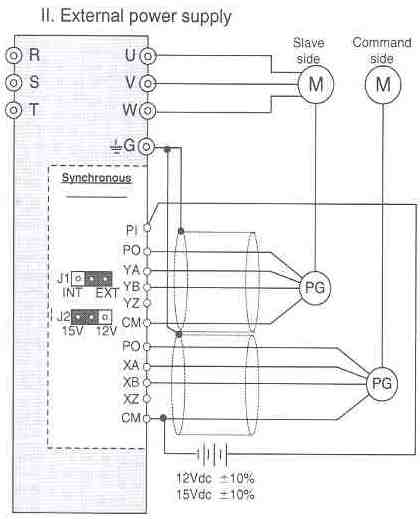 * Pin J2 may be connected on either the 12V or 15V side.
The above diagrams are used when the drive internal power source is used.
When using external power source, perform connection similar to the above connection, be referring to footnote2 when using external power supply of the PG feedback card.
To purchase any Saftronics drives or information, contact us at:
Phone (815) 725-9696,
Toll Free (866) 492-9888,
Fax (815) 725-9393 or
E-mail info@joliettech.com