Joliet Technologies recently shipped two 200Hp Variable Speed DC Drives and Motors to Canada.
The two drive systems were supplied to JHT Electronics LTD in St. Laurent, Quebec for Canadian Government Emissions Research and Measurements. Each drive using a QUANTUM III DC Drive.
DC Drives…
Joliet Technologies custom packaged (2) Quantum III 200 Hp Fully Regenerative DC Drives mounted and wired in a modified NEMA 12 enclosures with a rotary handle through the door disconnect. Cabinets, 72″ x 30″ x 18″ included a fan and filter. Field regulator FMX5 mounted on panel, Start, Stop, Speed Potentiometer and Speed Meter wired and mounted on cabinet door.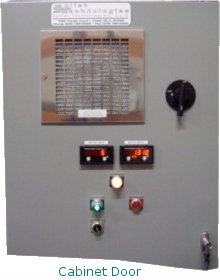 Contact the professionals at:
Joliet Technologies, L.L.C.
1724 Tomich Court
Crest Hill, IL 60403 USA
Phone: (815) 725-9696
Fax: (815) 725-9393
E-mail: info@joliettech.com 
From system integration to custom control panels, Joliet Technologies provides quality drive systems and custom control panels for new or existing applications or drive system upgrades, all in a timely fashion, and at competitive rates.
To get a Quote for your specific requirements, Contact Joliet Technologies today. Call (815-725-9696), fax (815-725-9393) or e-mail your requirements and we will prepare a detailed quote for your application. Or fill out a Request for Quote.
Feel free to contact us with any questions you may have regarding DC Variable Speed Drives.
DC Motors…
Joliet Technologies provided (2) GE DC Motors rated at 500 VDC, 1750/2200 RPM, DPFGF-BV, Frame L409ATD, class F insulation, max ambient 40 degree C, shunt wound, continuous duty. With duel output shaft, "D" flange on drive end, with blower and filter.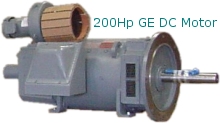 Joliet Technologies custom packages, integrates and engineers DC Variable Speed Drives (VSD's) using top of the line manufacturers, in this case Control Techniques QUANTUM III. This custom drive package was built to JHT Electronics specifications for their application.
Letter from JHT Electronics…
Goods have arrived in Canada and re-shipped in original packaging to end user. The units looked great…
Thank-you for your assistance to have these goods delivered to be cashed out by client before their year end next week.
Looking forward to a partnership with Joliet Technologies on future opportunities.
We will keep you in mind…
Again, thank-you to you and your team.
Gordon Gee
JHT Electronics Ltd.