Joliet Technologies is proud to be an integrator of Soft Starter Products by SOLCON.
PLEASE NOTE: THE FOLLOWING MODEL IS NO LONGER AVAILABLE.

 
RVS-EX Digital Soft Starter for Explosion Proof motors with Built-In Bypass
Fourth generation full featured microprocessor-based Digital Soft Starter with built-in bypass, new advanced pump & torque control. Range: 8-310A, 4-200KW, 220-600V and 390-1100A, 200-600KW, 220-690V.
RVS-EX Soft Starting explosion proof motors with the
RVS-EX Digital Soft Starter with a built-in bypass
Digital Soft Starter is a Full Featured, Microprocessor-Based, for explosion proof Motors 8-310A, 220-600V and 390-1100A up to 690V
Motor types: Ex-E; Ex-N; Ex-D; Ex-P
This digital soft starter with a built in bypass coms from a full featured line is Solcon's fourth generation of digital soft starters.
The RVS-EX incorporates enhanced start-stop characteristics providing the best solutions for most of the applications. The comprehensive motor protection package guarantees long term reliability while the bypass design ensures excellent performance.
For more information about how we can custom fit a soft starter for your needs, send us an email.
Advanced Starting and Stopping Characteristics
* Reduced inrush current & mechanical shock
* Soft, smooth stepless acceleration & deceleration
* Current Limit
* Pump Control Program
* Torque and Current Control characteristics
* Unique features such as: Pulse Start, Dual Adjustment, Slow Speed with Electronic Reversing, etc.
Sophisticated Motor Protection from a Digital Soft Starter
* Too many starts & start inhibit.
* Long start time (Stall protection)
* Electronic shear-pin (Jam) with adjustable curves and delay
* Electronic overload with selectable curves
* Under current
* Phase loss
* Phase sequence and Under/Over frequency
* Under/Over and No voltage
* Load loss (motor not connected)
* External fault
* Shorted SCR
* Starter over temperature protection
* Motor insulation test (option)
* Motor thermistor (option)
* Built-in Bypass while all protective functions remain active
Displays
* LCD – Two lines of 16 characters each
* Multilingual – English, German, French & Spanish
* Four LEDs – On, Run, Ramp Up/Down & Fault
* Statistical Data – Start, Stop & Fault parameters
* Full script parameter settings
Control
* Opto-Isolated Inputs & outputs, two output relays.
* Local and remote reset.
* Optional Communication RS 485 with MODBUS RTU or MODBUS Plus protocols
* Easily operated – via keypad, allowing precise settings, LED and interactive LCD (4 languages), Statistical data.
* Hardware and software allows starting from diesel-generator
Construction
* Normal duty rated design (ambient 40°C).
* Compact, light weight, aluminum, small foot-print and book type design.
Typical Applications for this Digital Soft Starter
* Pumps (Water utilities, Industry)
* Compressors
* Conveyors & monorails
* Mixers & Agitators
* Fans & Centrifuges
* Hydraulic pumps
* Starting from weak Mains supply
Unique features of the RVS-EX
1) Maximum starting time: 15 Seconds
2) Under voltage: 90%
3) Under voltage delay: 4 Seconds
4) Over voltage: 107%
5) Over voltage delay: 1 Second
6) Overload protection: 110%
7) Starting current: 400%
8) Staring voltage: 40% – 50%
The RVS-EX is the only Soft Starter certifide for Ex-E Explosion Proof motor
The RVS-EX is the only Soft Starter certifide for Ex-N Explosion Proof motor
The RVS-EX is the only Soft Starter certifide for Ex-D Explosion Proof motor
The RVS-EX is the only Soft Starter certifide for Ex-P Explosion Proof motor
The RVS-EX Digital Soft Starter incorporates a built in bypass and an Intelligent Pump Control Program:
Statistics for digital soft starter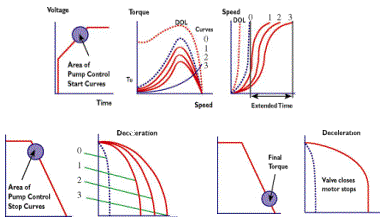 Information Provided by:
SOLCON USA
Solcon North America
Tel: 724.473.1301
Fax: 724.473.9506
Web: www.solconusa.com