Unidrive SP

Solutions Platform
---
PLEASE NOTE: Effective 2019, we no longer supply Control Techniques variable frequency drives and components. We have drives from several other manufacturers which can meet or exceed the performance characteristics of the Control Techniques line. Simply complete the form below, or contact us with the model of your current or obsolete Control Techniques drive and we'll be glad to identify a suitable replacement.
---
Option Modules – Communication Modules
Communication Modules
SM NETWORK COMMUNICATION MODULES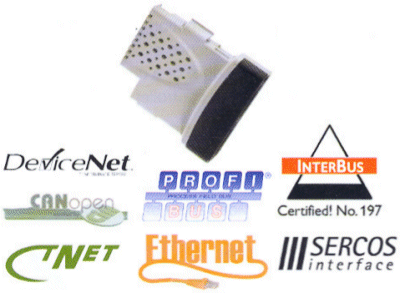 Communications
Protocol

System Configuration

Interface Module
Order Code

Modbus RTU*
Master/Slave
SM-Applications
DeviceNet
Slave
SM-DeviceNet
PROFIBUS-DP
Slave
SM-PROFIBUS-DP
ModbusTCP/IP
Slave
SM-Ethernet
INTERBUS
Slave
SM-INTERBUS
CANopen
Slave
SM-CANopen
CAN Interface
Master/Slave
SM-CAN
SERCOS
Slave
SM-SERCOS
CTNet
Peer-to-Peer
SM-Applications
* Modbus RTU is standard on Unidrive sr. An additional Modbus RTU port can be provided with an SM-Applications module.
REMOTE NETWORK I/O
The high-quality Beckhoff I/O system is available for systems using the CTNet communication network. A CTNet port is standa on a SM-Applications module. Beckhoff systems for CTNet include an I/O bUS coupler and a large variety of snap-on terminal blocks allowing up to 256 digital inputs or outputs and up to 100 analog inputs and outputs per bus coupler. Up to 64 Beckhoff I/O systems can be attached to a CTNet network. I/O points can be easily read or written. Contact Control Techniques for details on the wide range of available Beckhoff Remote I/O options.
Information provided by Control Techniques, a world leader in the design, production and marketing of electronic drives for the control of electric motors.