Unidrive SP

Solutions Platform
Option Modules – Communication Modules
Communication Modules
SM NETWORK COMMUNICATION MODULES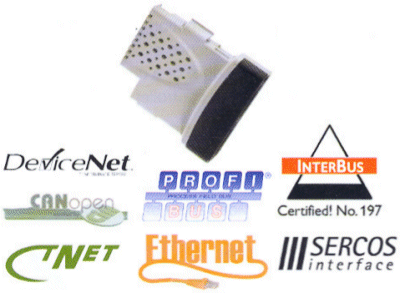 Communications
Protocol

System Configuration

Interface Module
Order Code

Modbus RTU*
Master/Slave
SM-Applications
DeviceNet
Slave
SM-DeviceNet
PROFIBUS-DP
Slave
SM-PROFIBUS-DP
ModbusTCP/IP
Slave
SM-Ethernet
INTERBUS
Slave
SM-INTERBUS
CANopen
Slave
SM-CANopen
CAN Interface
Master/Slave
SM-CAN
SERCOS
Slave
SM-SERCOS
CTNet
Peer-to-Peer
SM-Applications
* Modbus RTU is standard on Unidrive sr. An additional Modbus RTU port can be provided with an SM-Applications module.
REMOTE NETWORK I/O
The high-quality Beckhoff I/O system is available for systems using the CTNet communication network. A CTNet port is standa on a SM-Applications module. Beckhoff systems for CTNet include an I/O bUS coupler and a large variety of snap-on terminal blocks allowing up to 256 digital inputs or outputs and up to 100 analog inputs and outputs per bus coupler. Up to 64 Beckhoff I/O systems can be attached to a CTNet network. I/O points can be easily read or written. Contact Control Techniques for details on the wide range of available Beckhoff Remote I/O options.
Information provided by Control Techniques, a world leader in the design, production and marketing of electronic drives for the control of electric motors.