As of March 26, 2010 Joliet Technologies is no longer representing the Avtron line of products.
We do however represent the Dynapar line of Rotary Feedback Products.
Avtron – Tachs, Tachometers, Encoders, Rotary Pulse Generators
Joliet Technologies is the preferred Avtron Integrator for the Chicagoland area.
Tachs, Tachometers, Encoders, Rotary Pulse Generators 
Tach Accessories
Shaft Grounding Kits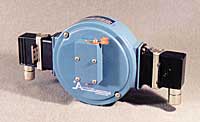 M3 with shaft grounding brush. Click here to view the Instruction Sheet.
Shaft grounding is one of those options that can save you thousands of dollars of motor maintenance by eliminating or minimizing bearing failures due to shaft currents passing through the bearing to ground. The shaft grounding brush is used to provide those shaft currents with a low resistance path to ground. By providing this path, you also protect the bearings on connected equipment like tachometers. These brushes offer a reduction in the cost of protection since no special insulated bearings are needed on the motor and no special insulated couplings are needed for connected accessories.
The option is especially attractive since no changes to the motor shaft are required. The grounding brush is an integral part of the encoder. A wire lug is included for a grounding cable which should be attached to ground at the other end to complete the installation. That's it! Maintenance is a breeze as well since the brush holder is mounted on the outboard side of the encoder where you have easy access. A cleanout port is included to permit routine maintenance and brush replacement as needed.
If you happen to have a motor that does not require an encoder, but still could use a grounding brush, we can offer you a special version of the M3 Universal Encoder with the shaft grounding option and no encoder electronics. Call or email us for details.
Shaft Grounding is available on the M3 and M4 Universal Encoders as well as the SMARTachTM digital pulse generators. See the PDFs of the instruction sheets for specific applications. If you have any questions, feel free to email us for more information or application assistance.
SMARTachTM is a trademark of Avtron Manufacturing, Inc.
HANDTachTM
M740 Handheld Tachometer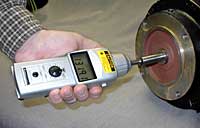 HANDTach shown using shaft extension. Click here to view color brochure.
0.10 -25,000 RPM
Accurately measures rotational and surface speed, as well as length. Built in selector switch permits the user to display readings in a wide variety of engineering units.
Features:
Built-in memory for last, maximum, minimum and 10 separate readings
Rugged cast aluminum housing
Model M740 is supplied with a 12″ circumference wheel
FREE NIST calibration certification
Complete Kit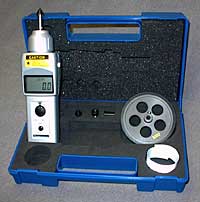 The M740 is supplied as a complete kit including 12″ circumference surface speed wheel, two cone tip adapters, funnel tip adapter, shaft extension, two AA batteries and an operating instruction manual – all supplied in a foam-fitted carrying case.
Specifications
MODEL
M740
Display Range
0.10 to 25,000 RPM with floating decimal
Accuracy
0.10 to 999.99 RPM: +/-0.06 RPM
1,000.0 to 9,999.9 RPM: +/-0.6 RPM
10,000 to 25,000 RPM: +/-0.006% of reading
Memory System
13 readings are stored in memory and retained for 5 minutes (last, max., min., and 10 measurements)
Detection
Optical coupler, 60 pulses/rev
Over Range Indicator
Flashing numerals
Update Time
1 second (typical)
Batteries Included
Size: 2 AA 1.5V
Life: Approx. 65 hours
Low Voltage Indicator
Flashing "LO BAT" display
Operating Temperature
32 to 113 degrees F (0 to 45 degrees C)
Construction
Die-cast aluminum housing
Weight
0.9 pounds (400g)
Dimensions
7.3″ L x 2.4″ W x 1.8″ H
Warranty
1 year
Accessories Included
2 cone adapters, 1 funnel adapter, 3 1/2″ extension shaft, 1 surface speed wheel, carrying case, operating instructions
If you would like a price quote, e-mail us. Please also include in your e-mail: your name, company, address, phone, fax, and e-mail address. We will respond quickly to your request.
HANDTachTM is a trademark of Avtron Mfg., Inc.
TACHTesterTM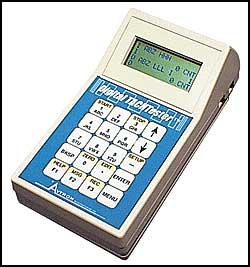 Avtron TACHTester Rotary Pulse Generator and Encoder Tester
Avtron is pleased to announce it's all new TACHTester pulse generator and encoder tester. This instrument can test nearly any brand of pulse generator or encoder.
Click here to view color brochure.
Hand held for easy operation.
Tests without having to remove Tach from motor.
No oscilloscope or additional instruments required.
AC or DC Operation.
4 Hour Battery Life, Continuous Duty.
Cable assemblies can be made for testing any zero speed, Avtron unit and other brands as well.
A "Universal" cable is provided for use with others.
The TACHTester digital instrument tests for duty cycle, marker pulse, counts per turn, missing pulses, and phase separation providing far more than a simple, go/no-go tester.
Save time and money troubleshooting tachs to isolate drive problems quickly.
Use it to output 60-20,000 counts per second quadrature signals to test cabling from encoder to drive cabinets.
Check speed meters and footage counters for correct calibration or general operation.
Send test signals to drives for troubleshooting or diagnostic evaluation during startups.
AC adapters included for bench use and to recharge the battery.
Detailed instruction manual included.
Simple operation with little training required.
Now you can be sure your equipment "meets the spec".
If you would like a price quote on the Avtron TACHTester, e-mail us and include "TACHTester RFQ" in the subject line. Please include in your e-mail: the Avtron Pulse Generator model to be tested if applicable, and your name, company, address, phone, fax, and e-mail address. We will respond quickly to your request.
TACHTesterTM is a trademark of Avtron Mfg., Inc.
---
Call Joliet Technologies TODAY 
If you have any questions concerning Avtron's Tachs, Encoders, and Pulse Generators, please contact us by:
Phone (815) 725-9696,
Toll Free (866) 492-9888,
Fax (815) 725-9393 or
E-mail info@joliettech.com
---
Joliet Technologies custom packages, integrates and engineers AC Variable Frequency Drives (VFD), DC Variable Speed Drives (VSD) and AC Drive Controllers using top of the line manufacturers, like ABB, Emerson-Control Techniques, Siemens and Saftronics (Fincor). Our custom drive packages are built to your specifications for your application. We specialize in large horsepower drive systems (500Hp and above). Call us at (815) 725-9696 or fax us at (815) 725-9393 or e-mail us or fill out an RFQ with your requirements. Serving the greater Chicagoland area and the World.