Options & Accessories
Dimension Sheets
Options & Accessories
Name
Keypad Extensions Cables

---

Part Number
SWS30xx

---

Function
Provide means of programming and the monitoring the CV1 0 drive remotely.

---

Specifications
N/A

---

Connection Diagram

Drive Model
Extension Cable
Cable Length Feet
All Models
SWS30P5
1.64 (0.5M)
SWS3001
3.28 (1.0M)
SWS3002
6.56 ( 2.0M)
SWS3003
9.84 ( 3.0M)
SWS3005
16.4 ( 5.0M)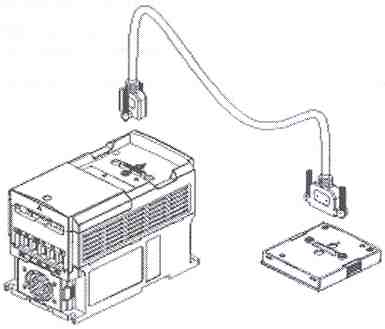 Operation procedure
Warning: Turn OFF the power supply. The following procedures should be performed after there is no display on the keypad.
Remove the keypad from the drive.

Please refer to diagram before mounting the keypad to your machine or Panel.

Connect the drive and the keypad with the remote cable in accordance with the above diagram. Supply the power to operate ONLY after all elements are securely fixed.
Call for availability of drives, and freight options. (815) 725-9696
All prices are subject to change without notice.
To purchase any Saftronics drives or information regarding Saftronics drives and Accessories, contact us at:
Phone (815) 725-9696,  Toll Free (866) 492-9888, Fax (815) 725-9393 or
E-mail info@joliettech.com