MOTORTRONICS
VMX Series
Compact Low Voltage
Soft Start Starters

Ratings from 18A to 1250A
(up to 1200Hp)
240VAC and 480VAC

VMX Series System Protection

Integrated bypass contactor
Advanced motor protection
Narrow-width for MCC mounting
Low-profile for use in pump panels
Remote keypad mounting
Unique built-in features
VMX Series System Protection
World-class motor & system protection…
in a soft starter that is easy to install, easy to wire & easy to use

Motor Thermal Model
Separate Start & Run Overload Protection
Two programmable overload trip 100%. curves allow for the thermal capacity required to start the load, while providing more closely matched overload protection during the run time.
Real-Time Thermal Modeling
A dynamic thermal register continuously calculates motor operating temperature even when your motor is not running. Knows when the motor is cool enough for a successful restart.
Retentive Thermal Memory
Remembers the motor thermal condition even in the event of a power loss or blackout. Extrapolates motor temperatures using a real-time clock.
Dynamic Reset Capacity
Overload will not reset until thermal capacity in the motor is sufficient for a successful restart. Starter learns and retains this information from previous starts.
Duty Cycle Protection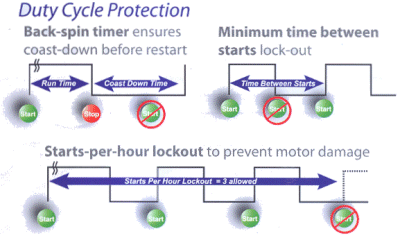 Back-spin timer ensures coast-down before restart
Minimum time between starts lock-out
Starts-per-hour lockout to prevent motor damage

Equipment ground fault trip and monitoring (residual current method)


PTC thermistor input for use on motors with embedded PTC temperature sensors


Current imbalance trip and biasing of the thermal register


Phase loss protection based on current and voltage


Electronic shear pin trip (overcurrent) with trip delay


Load loss trip (under current) with trip delay


Phase rotation protection


Pre-start shorted load protection checks for motor lead or winding damage


Running short circuit trip acts like a high speed "electronic fuse"


Shorted SCR lockout, defeatable for "must run" situations


Bypass discrepancy monitoring ensures the Bypass Contactor closes


Over temperature trip keeps track of heat sink temperature to avoid SCR damage


Shunt trip detects welded contactor or multiple shorted SCRs (when used with shunt trip breaker)


Remaining thermal capacity metering, to predict overloads


Metering of A, B, C phase and ground fault currents
The features of a protection relay at no additional cost!
Unique, Compact Design
Narrow width for MCC (motor control center) mounting
Integrated bypass contactor
Low profile for use in pump panels & other shallow enclosures
Remote mount keypad capability
Generous power terminal landing pads
Pull apart control terminals for easy assembly & wiring
Built-in features eliminate adding discreet devices
Process control timers, metering, decel control, communications, and more
Remote Mount Keypad Option
Remotely mount the keypad and display up to 10 feet from the base unit, with NEMA 1 or NEMA 4/12 bezels
Flexible Inputs & Outputs Put You in Control!
Easy access RS-485 comm port
with Modbus RTU protocol built-in, no add-on communications module needed.
Simple control wiring:
2 or 3 wire Start/Stop, N.C Interlock, PIC IE-Stop, Jog and Dual Ramp, all operated at 24VDC for safety.
Dedicated fault triac
with opto-isolation for PLC interface or connecting to an external relay.
Emergency Bypass Input simple contact closure allows for independent control of the Bypass contactor when emergency across-the-line starting is needed. (For heavy duty applications requiring full voltage, line start capability, see the VMX-HD Series).
3 dry contact relays:
2 FORM C and 1 FORM A, all fully programmable for over 30 functions including, Run, At Speed, End of Decel, nine other status indicators and 13 trip indicators, including an option to flash on certain faults.
Contact Joliet Technologies for pricing,
availability and freight options.
Phone: (815) 725-9696 or
Toll Free: (866) 492-9888
Fax: (815) 725-9393
E-mail: info@joliettech.com
RFQ – Request for Quote