As of March 26, 2010 Joliet Technologies is no longer representing the Avtron line of products.
We do however represent the Dynapar line of Rotary Feedback Products.
Avtron – Tachs, Tachometers, Encoders, Rotary Pulse Generators
Joliet Technologies is the preferred Avtron Integrator for the Chicagoland area.
Tachs, Tachometers, Encoders, Rotary Pulse Generators 
M56, M67, M85 THIN-LINETM
Pulse Generators, Tachometers, Encoders
Description

The THIN-LINE series of rotary pulse generators, (also known as incremental encoders and digital tachometers) consists of three models: M56, M67, M85. All three have the same rugged magnetoresistive sensing circuit, but each has a different mechanical configuration in order to fit the most popular AC and DC motors.

Features

No Bearings or Couplings
57% Larger Air Gap
Lower Installed Cost
Thin Profile

Outputs

The standard electrical output from a THIN-LINE pulse generator is a two phase, square wave signal with complements (A,A\, B,B\). A once per revolution marker pulse (Z,Z\) is included on all units. The choices of pulse per revolution (PPR) ratings include 128, 256, 512, and 1024.

Motor Mounting Options

THIN-LINE pulse generators can be easily installed on most AC and DC motors equipped with accessory mounting faces. The standard mounting face diameters are 4.50″, 6.75″, and 8.50″. The accessory face can be machined directly on the motor or it can be machined onto a fan cover.

What does Wide-Gap Sensor Technology do for you?

Simplifies Installation

Reduces Problems Caused by Contamination

Better Signal Quality

What does the Edge-Guard Sensor do for you?

Protects Sensor from Damage

Reduces Mishandling Problems

Additional THIN-LINE Features:

Outboard C-Face Included on All Units for Easy Accessory Mounting

Ultra-Thin Profile

Sealed Design, Protects Against Contamination

Improved Electrical Noise Immunity for Better Signal Availability to Drive

Dual Output Option

Maintenance Free Operation – No Wearing Parts


THIN-LINE products: M85, M56, and M67.
(Click here to view M56, M67, M85 THIN-LINE Brochure or Instruction Sheets.)

All three models are modular designs consisting of two basic components, the rotor and the stator. This design simplifies the installation and eliminates time consuming alignment procedures. Also, a modular pulse generator has no bearing, no couplings, or other wearing parts, making it one of the most reliable configurations available.

Compatible with these Motor Brands

ABB
Allen-Bradley
Baldor
Emerson
GE
Marathon
Reliance
Siemens
Toshiba
US
WEG
Others

WIDE-GAP Sensor Technology

The quality of the electrical signal generated by a magnetoresistive pulse generator depends upon the proper air gap between the sensor and the rotor. To improve the performance and ensure proper operation of the THIN-LINE pulse generators, Avtron uses a new, Wide-Gap sensor.

The Wide-Gap sensor technology that is used on the M56, M67, and M85, has several advantages over conventional magnetoresistive sensors, the most beneficial of which is a 57% larger operating air gap between the sensor and the rotor.

Another feature of the new sensor technology is Edge-Guard. The Edge-Guard sensor is mounted perpendicular to the rotor, which protects the critical sensor elements.

THIN-LINETM  is a trademark of Avtron Manufacturing, Inc.
Air Gap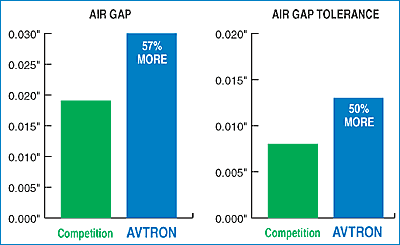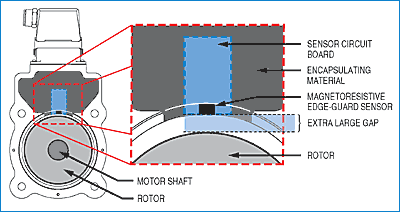 Drawing not to scale.
---
Call Joliet Technologies TODAY 
If you have any questions concerning Avtron's Tachs, Encoders, and Pulse Generators, please contact us by:
Phone (815) 725-9696,
Toll Free (866) 492-9888,
Fax (815) 725-9393 or
E-mail info@joliettech.com
---
Joliet Technologies custom packages, integrates and engineers AC Variable Frequency Drives (VFD), DC Variable Speed Drives (VSD) and AC Drive Controllers using top of the line manufacturers, like ABB, Emerson-Control Techniques, Siemens and Saftronics (Fincor). Our custom drive packages are built to your specifications for your application. We specialize in large horsepower drive systems (500Hp and above). Call us at (815) 725-9696 or fax us at (815) 725-9393 or e-mail us or fill out an RFQ with your requirements. Serving the greater Chicagoland area and the World.