| | |
| --- | --- |
| | |
[contact-form-7 id="4402″ title="Saftronics Replacement"]
(Obsolete) Saftronics PC10 Mini Vector AC Drives
(Obsolete FINCOR Series 5750)
Saftronics PC10 AC Drives are Obsolete and No Longer Available – They have been Replaced with the Saftronics CV10 Compact Vector AC Drives.
Options & Accessories
SF-10 Ethernet Module Kit
Inverter
Series
KIT
Part Number
KIT Includes
Software
Part Number
*SF-10 Adapter Module
Part Number
SAFLINK Cable
Part Number
GP10
046-7034
046-3034
046-9019
046-9020
VG10
046-7035
046-3035
046-9019
046-9020
PC10
046-7036
046-3036
046-9019
046-9022
Function
To provide an economical means of implementing Saflink communications over the Internet/Intranet.
Features
Ease of accessing Saftronics' inverter information through Saflink over the Internet/
Intranet

Compatible with Windows 98, ME, NT4, 2000, XP

An economical means of implementing Saflink which allows you to

Edit all drive parameters

Upload and download drive parameters

Advanced parameter compare function

Control the drive with built -in digital operator

Store / retrieve parameter files

Fault history readout

Automatically scan drive functions

Display diagnostics on LED readout
Specifications
Network Interface Size –
10Base- T (RJ45 connector)
H 2.3 cm (0.9 in) x W 6.4 cm (2.5 in) x 0 9.0 cm (3.5 in)
Connection Diagram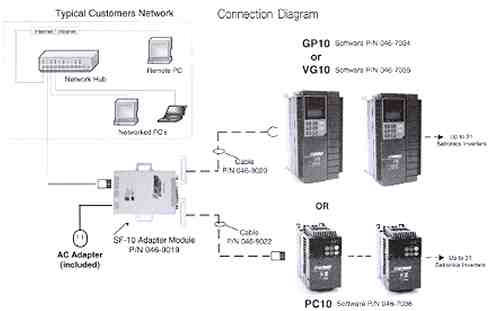 PC10 Software P/N 046-7036
To purchase any Saftronics drives or information regarding Saftronics drives and Accessories, contact us at:
Phone (815) 725-9696,  Toll Free (866) 492-9888, Fax (815) 725-9393 or
E-mail info@joliettech.com
Call for availability of drives, and freight options. 
All prices are subject to change without notice.