As of March 26, 2010 Joliet Technologies is no longer representing the Avtron line of products.
We do however represent the Dynapar line of Rotary Feedback Products.
Avtron – Adjustable Speed Drives and Drive Systems
Joliet Technologies is the preferred Avtron Integrator for the Chicagoland area.
Adjustable Speed Drives and Drive Systems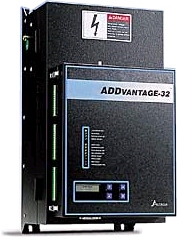 DC Drives and Drive Systems
The ADDvantage-32 DC Digital Drive has been designed for quick and easy integration into a system. The drive offers advanced communication, coordination interfaces, and regulation functions.
The drive includes all AC fusing and the motor DC contactor. This saves expensive labor and documentation required to mount and wire these items into a panel or cabinet. Furthermore, it has enough I/O and functionality to handle the most demanding applications without expensive external "master" controllers or other hardware.
Avtron has pre-engineered standard panels and cabinets for all drive sizes. Standard AC and DC power hardware options are offered in cost-effective packages.
ADDvantage-32TM is a trademark of Avtron Mfg., Inc.
---
The ADDvantage-32 DC Drive
| | |
| --- | --- |
| ADDvantage-32 DC Drive | The Avtron ADDvantage-32 drive is a three-phase power converter offering advanced features made possible by a powerful 32-bit embedded controller. It provides full-wave digitally-controlled motor armature and field power conversion. Bridges are sized up to 2500 HP and can operate at voltages up to 1000 VDC. For higher horse powers, parallel designs are available.The standard drive has ten digital and ten analog I/O points, two pulse generator/tach/encoder inputs, and an RS 485 multi-drop serial link. Optional plug-in modules are available for I/O expansion, digital coordination, resolver feedback, and ethernet. |
Pre-programmed software
Open architecture
Use any programmable logic controller
Use any operator interface
Superior diagnostics through Avtron's ADDAPT (TM) software
ADDAPTTM is a trademark of Avtron Mfg., Inc.
---
Large Power Range
The smaller drives are integral, chassis mounted units and the larger drives use separate bridge and control assemblies. Standard single SCR (Silicon Controlled Rectifier) bridge designs are available from 5 to 3000 amps.
Avtron offers both 6 and 12 pulse drive designs and has developed standard modules for parallel SCR firing.
Avtron has also standardized on large drive auxiliary hardware and can offer cost-effective packages which include drives, isolation transformers, AC circuit breakers, DC contactors, and more.
---
Advanced Communication:
IEEE 802.3 (ETHERNET) LAN with Modbus TCP protocol
IEEE 802.3 (ETHERNET) LAN with Allen-Bradley ETHERNET/IP protocol
IEEE 802.3 (ETHERNET) LAN with GE EGD protocol
RS 485 Serial Link with Allen-Bradley DF1 protocol
Avtron System Architecture Communication Protocols
The Avtron concept of a process range drive is based on highly configurable, high performance digital drives with resident capability to perform drive control functions locally utilizing a PLC for operator interface, process I/O, and permissive logic. The PLC is not burdened with time critical and complex drive control functions. It retains the ability to communicate with the drives via a high performance Ethernet.
Based on high speed, open Ethernet communication protocols you get the most flexibility going into the future. Available Avtron Ethernet protocols compatible with popular programmable controller (PLC) hardware include:
Ethernet IP – Allen Bradley Control Logix, PLC-5 , SLC
Modbus TCP – Modicon, and many others
GE EGD – GE 90/70, 90/30
These protocols allow high-speed communication from PLC's and other external devices to the ADD-32TM drives as well as drive to drive. The benefit is minimized system wiring, enhanced system reliability, while retaining maximum flexibility through the life of the system/product. All Drive related system I/O (except E-Stop) is typically communicated over the Ethernet.
Ethernet also provides the backbone for Avtron's high performance process and drive diagnostic tool, Performance ViewTM. Large amounts of data taken at high speed usually allow process or drive problems to be diagnosed after only one occurrence. Data is retained for days.
Deterministic Ethernet performance is assured through the use of modern high speed Ethernet switch technology. Full duplex operation of a single device per port assures no data collisions can occur. The ADD-32 supports both 100 base FX fiber optic and 10/100 base TP copper Ethernet media.
The ADD-32 drive product line also supports Devicenet communications to PLC's and other external devices.
Performance ViewTM and ADD-32TM are trademarks of Avtron Manufacturing, Inc.
---
Protection and Diagnostics
ADDvantage-32 includes multi-level protection and diagnostics that make for fast, easy troubleshooting. The front panel of each ADDvantage-32 drive includes four red FAULT LEDs. These light when the corresponding hardware and/or software sensing circuitry reaches a value which can threaten damage to the drive components. Standard protective faults are built-in and include:
AC line voltage, phase, and frequency variations
DC armature instantaneous overcurrent or open armature
DC field current and control loss
Control power loss
SCR open and short circuit
Two user configurable faults
The unit also has extensive power-up self checks including interconnection cable checks and bridge testing.
---
Pre-Programmed Application Software
The ADDvantage-32 provides access to function blocks, data tables, I/O points, and internal test points. Avtron provides field-proven, pre-programmed software for common applications using plain English and engineering units. Customer personnel can easily enter "configuration and calibration" to customize the standard software for a specific application. Setup is easy because the drive uses engineering units, not cryptic code numbers.
---
ADDAPT Software is Available
* ADDAPTTM ADDvantage-32TM Application Programming ToolsWindowsTM Based Software Program for ADDvantage-32 Drives and Drive SystemsPrograms Include:

Upload/Download Calibration and Configuration of Drives Off or On Line
View Real Time Data Including Drive Fault FIFO
Diagnostic Graphic Package and High Speed Signal Analyzer 8 pen display

Read More about it!. View Sales Literature in PDF format. Questions on PDF? Visit FAQ's on PDF

Four security levels for program entry
PC access for file storage and retrieval
Can be used for up to 250 drives from one PC or can support multiple PC's on one network
Real time viewing of any drive fault FIFO
On line maintenance mode gives quick indication of any parameter change from default values
1000 data points per pen channel with 11 msec to 11 sec resolution
Single view of each (8) pen or overplot them with a zoom feature
Manual on CD in PDF format
Support serial link and Ethernet communication links
* Avtron has released Version 12 of ADDAPT 2000 (ADDvantage-32 Application Programming Tools) which enables the program to run on Windows XP systems. ADDAPT 2000 has been enhanced to bring XP users the same features that other Operating System users have had.
ADDAPTTM and ADDvantage-32TM are trademarks of Avtron Mfg., Inc.
WindowsTM is a trademark of Microsoft Corp.
---
Process Diagnostics
Each drive contains a four-channel high speed Signal Analyzer to help isolate process problems from drive or tuning performance. The drive can be configured to record any 4 internal variables (speed, armature current, etc.) with a configurable trigger. The analyzer can be triggered to save data before and after the next upset. Later, this information can be played back to a personal computer or an "analog" chart recorder.
---
Call Joliet Technologies TODAY 
If you have any questions concerning Avtron's Adjustable Speed Drives and Drive Systems or related products, please contact us by:
Phone (815) 725-9696,
Toll Free (866) 492-9888,
Fax (815) 725-9393 or
E-mail info@joliettech.com
---
Joliet Technologies is an OEM that custom packages, integrates and engineers AC Variable Frequency Drives (VFD), DC Variable Speed Drives (VSD) and AC Drive Controllers. Our drive systems integrate top of the line manufacturers, like ABB, Emerson (Control Techniques & Saftronics / Fincor), Siemens and WEG to name a few. Our added value custom drive packages are built to your specifications for your application. We specialize in large horsepower drive systems (500Hp and above). Call us at (815) 725-9696 or fax us at (815) 725-9393 or e-mail us or fill out an RFQ with your requirements. Serving the greater Chicagoland area and the World.