Unidrive SP

Solutions Platform
---
PLEASE NOTE: Effective 2019, we no longer supply Control Techniques variable frequency drives and components. We have drives from several other manufacturers which can meet or exceed the performance characteristics of the Control Techniques line. Simply complete the form below, or contact us with the model of your current or obsolete Control Techniques drive and we'll be glad to identify a suitable replacement.
---
FEATURES
Performance Advantage
---

Dual Duty Ratings-Normal and Heavy

Provides cost effective sizing choices for all applications.

---

48VDC Main Power Supply Input

Ideally suited for elevator rescue and machine tool set up.

---

24VDC Auxiliary Power Supply Input

Provides an additonal means of maintaining control, field bus and position loop on mains loss

---

Comprehensive Autotune

Inertia monitoring and static autotune reduce startup time.

---

Univeral Feedback Interface

Supports 14 different feedback configurations, including several absolute encoders. No need for additional components.

---

High Resolution Analog Input

16-bit, 250 IJsec interface for high performance applications. Two additional 1 O-bit analog inputs for low level controls.

---

Extensive Fieldbus Connectivity

ModbusRTU (Standard), Profibus-DP (12Mbit), Ethernet, DeviceNet, CAN, CANOpen, Interbus-S and CTNet optional via zero-space SM modules. Up to four fieldbuses can connect to a single drive, eliminating the need for expensive gateways.

---

Three Universal Option Slots

Fieldbus, control and application SM modules fit in any of the three option slots beneath the drive cover.

---

Secure Disable Function

Conforms to IEC954-1 Category 3 for machine safety with system cost reduction.

---

SmartCard for Simple Setup and Cloning

Easy-to-use card stores drive configuration for simple startup and parameter cloning. Supplied free with Unidrive SP.

---

Keypad Options

Choose no keypad, LED keypad or LCD keypad based on the system design and operating environment.

---

Drive Mounted Brake Resistor

Unidrive SP sizes 1 and 2 feature a drive mounted brake resistor option to reduce panel space requirements.
Standard Features of the Unidrive SP
5 Operating modes: VfHz, open loop vector, closed loop vector, servo, and regen
Encoder feedback as standard (select from 14 types)
Built-in shaft orientation mode
Digital lock with adjustable ratio (frequency slaving)
Programmable boolean logic (AND, NAND, OR, NOR) gates with delay outputs
Programmable threshold comparators
Built-in PID controller
S-ramp accelfdecel profiling
Built-in MOP (motorized potentiometer)
8 Preset speeds and independent accelfdecel rates
3 Skip frequencies with adjustable bandwidths
Run time chronometers
Configurable analog and digital I/O
Selectable Stopping modes including Coast Ramp, and DC injection
Dynamic Braking capability
Removable control terminals common to all sizes
Feature Enhancements to Unidrive SP
Output frequencies up to 3000Hz
Intelligent Thermal Management (lTM) technology with switching frequencies up to 16kHz
Unidrive SP
– Incorporating "Benchmark" Technologies
SECURE DISABLE
The Unidrive SP Secure Disable function meets the requirements of EN954-I : category 3 for machine safety, and can serve as a part of a category 4 application. Control Techniques' Secure Disable safety solution has been independently verified by the German safety organization, BIA. This exclusive feature of the Unidrive SP saves money and space. Under many conditions, this standard feature eliminates the need for safety contactors by utilizing secure circuitry to prevent the motor shaft from being driven by the drive.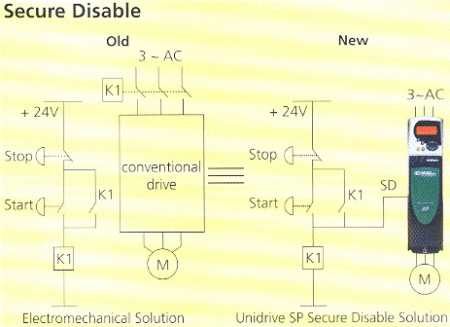 MULTIPLE FIELDBUS CAPABILITY
The Unidrive SP provides unrivaled field bus flexibility. In addition to the standard Modbus RTU port, up to three field bus option modules can be installed in the Unidrive SP's option slots. This provides the capability to control and monitor a Unidrive SP on multiple field bus networks. For example, a single Unidrive SP can be configured to communicate on both DeviceNet and Profibus networks simultaneously.
In the example shown, CTNet is used to provide real-time coordination between two Unidrive SP modules. The DeviceNet and Profibus connections allow data to be passed to/from the controllers in a machine line.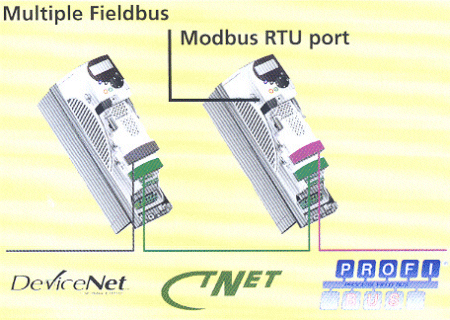 PLC FUNCTIONALITY WITH UNIDRIVE SP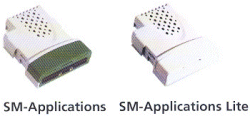 In addition to the extensive drive configuration capabilities of the Unidrive SP, scalable programming is available to solve virtually any application requirement. Simple logic function programming is achieved using SyPTLite software and the drive's built in PLC More complex systems can be solved by adding SM-Applications Lite (with SyPTLite or SyPTPro) and SM-Applications (SyPT only) option modules.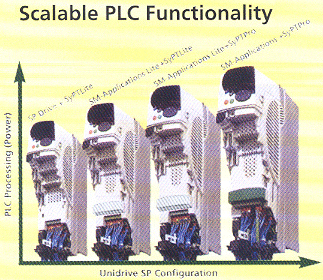 Information provided by Control Techniques, a world leader in the design, production and marketing of electronic drives for the control of electric motors.