Please note: the ACS60x series of stand-alone drives, modules, and multi-drives is obsolete. Simply complete the form below, or contact Joliet Technologies for a current replacement or retrofit perfectly suited to your application!
---
---
ABB ACS600
AC Drives

 

Extruding Applications
ACS 600
Adjustable Speed AC Drives

 

for advanced speed control
of 3 to 4,000 HP induction motors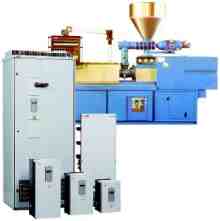 ACS 600 Benefits
ABB Commercial Benefits include:
World-wide manufacturing sales and support in over 100 countries
US operation in New Berlin, Wisconsin

State of the art automated manufacturing facility
Product development Component failure analysis lab
Finished Goods inventory
Application engineering
24 / 365 Technical support
ISO 9001, ISO 14001 Certified

Regional managers provide field sales support
Regional application engineers for field application
Territory manager organizations (totalling over
Extensive network of industrial distributors

ABB drive inventory in stock

165 designated service stations (600 employees nationwide)

Provide start-up assistance
Provide drive warranty service

2-year on site product warranty with registered

No cost to you or your customer

ABB is the world's largest manufacturer of AC
Technological leader in AC drives development with 8.5% of gross revenues allocated to continuing research and development
ABB offers a wide range of automation products including AC and DC motors, microdrives (subfractional HP), DC drives, medium voltage AC drives, PLCs and control products
Benefits of AC vs. DC include:
The simplicity, ruggedness and lower cost of AC motors favors AC solutions over DC
Improved power factor provided by an AC drive offers many beneƒOts to the end user – Displacement power factor equals 0.96 regardless of speed or load
Reduced motor maintenance and repair costs favor AC motors over DC motors
Increased system efficiency using AC drives and motors reduces the operating costs of the machine
ACS600 drives can provide accuracy and responsiveness exceeding traditional DC drives
Using AC motors will reduce the user's need to perform routine motor maintenance
Development efforts in electronics will continue to drive AC products as a more competitive solution
ABB's ACS600 drives achieve the ultimate in AC motor control performance through the many benefits of applied Direct Torque Control (DTC) technology.
The unique capabilities of the ACS 600 with DTC make it a perfect solution for plastics and rubber extruder applications. Material characteristics often demand high starting torque capabilities while the screw(s) and other mechanical parts of the extrusion machine need to be protected against overloads.
The ACS600 is well suited for a wide range of other extrusion process applications including winders, casting ring fans, feeders, conveyors and other take-away equipment for both film and profile lines.
Starting torques up to 200% of full load rated torque guarantee reliable starting of even the heaviest loads. The automatic start feature outperforms the ƒPying start and ramp start features found in traditional AC drives and, with DTC, there is no restart delay.
Features include:
ACS600 AC drives from 3 to 4,000 Hp
Input voltages from 200 – 500 VAC ±10%
Agency approvals – UL, cUL, CSA, CE
AC line reactor built-in (3% Impedance)
Parameter copying using plain language keypad
– No Codes
Unequaled motor control utilizing ABB's patented Direct Torque Control (DTC):

Excellent speed accuracy without encoder feedback down to 1 rpm
Precise torque limit even above base speed for drivetrain protection
Proven open loop control in extruder applications
Full motor torque down to Zero Speed

Accurate analog output proportional to motor torque (True Motor Load)
Ease of set-up using Drive Window™ software

Windows-based software
Parameter configuration and file storage
Speed Trending

Computer Based Training (CBT) tool for training maintenance and service personnel

Total Customer Satisfaction
The quality of ABB drives is backed by a company-wide commitment to total customer satisfaction. ABB's 24-hour customer support line, plus an extensive sales and service network, provide a wealth of drives applications expertise and personalized assistance that will ensure your continued success.
ACS600Extruder-US-00