As of March 26, 2010 Joliet Technologies is no longer representing the Avtron line of products.
We do however represent the Dynapar line of Rotary Feedback Products.
Avtron – Speed and Length Measurement
Joliet Technologies is the preferred Avtron Integrator for the Chicagoland area.
Performance View Process Diagnostic System
The Avtron Performance ViewTM Diagnostic System collects, stores, and presents data from drives, PLC's, and other industrial controllers for historical OR real-time analysis.
Designed for ease of use and set-up, the system is at work 24/7 to log information when you can't.
Performance ViewTM is a trademark of Avtron Mfg., Inc.
---
Features
Simple, easy to use operator interface without custom programming
Designed for use by operators, electricians, and maintenance people alike
Enterprise quality server hardware
State-of-the-art logging and application software
Time-stamping of all data at our server for correlation of data into one database
Simultaneous, multi-vendor ethernet interfaces to:

MODBUS TCP/IP
GE EGD
Rockwell Ethernet I/P
Others available as well

Read More about it! View the sales literature in PDF format. Questions on PDF? Visit FAQ's on PDF.
By leveraging the technology advances of the last several years, Avtron has been able to use industry-standard computer operating systems to gather high-speed data from multiple sources and compile it into a user friendly format.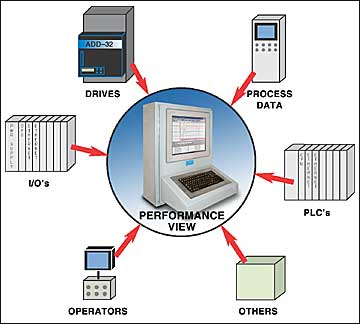 ---
Benefits
Problems are diagnosed after FIRST occurrence, not many
Discern between drive, process, or operator problems
Helps determine if problems are electrical, mechanical, or operational
Supports mill's predictive maintenance program
---
10-channel, color-coded pens
Speed buttons for commonly used functions
No need to keep track of file names or directories to find info
Data exportable to .csv format
2-cursor analysis function
Live and historical data all from ONE screen, not several
Save settings for fast, easy recall of commonly used variables
---
Up to 10,000 pre-defined events
User configurable text messages
Sort, filter, search functions to quickly find problems
Direct link to trend chart for 1-click display of information before, during, and after the event
Live and historical data all from ONE screen, not several
On-screen recorded data channel for display of any variable at time of event
---
Simple, one-glance snapshot of machine variables
Selectable speed/draw screen available
User configurable area for other machine/process variables
Web-break, video extra-brite functions, permissive, and interlock screens available as well
---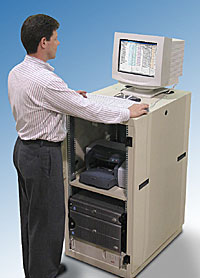 Package Options
Components available in desktop, rack mount, and NEMA enclosed versions
Performance View LiteTM for use with existing Avtron Speed/Draw systems
Up to 10 client licenses available for viewing data from server
Remote Access available for off-site troubleshooting
Performance View LiteTM is a trademark of Avtron Mfg., Inc.
---
Call Joliet Technologies TODAY 
If you have any questions concerning Avtron's Speed and Length Measurement Instrumentation, please contact us by:
Phone (815) 725-9696,
Toll Free (866) 492-9888,
Fax (815) 725-9393 or
E-mail info@joliettech.com
---
Joliet Technologies custom packages, integrates and engineers AC Variable Frequency Drives (VFD), DC Variable Speed Drives (VSD) and AC Drive Controllers using top of the line manufacturers, like ABB, Emerson-Control Techniques, Siemens and Saftronics (Fincor). Our custom drive packages are built to your specifications for your application. We specialize in large horsepower drive systems (500Hp and above). Call us at (815) 725-9696 or fax us at (815) 725-9393 or e-mail us or fill out an RFQ with your requirements. Serving the greater Chicagoland area and the World.