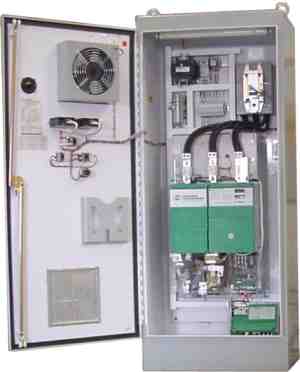 DC DRIVES
DC drives consist of an SCR (Silicon Controlled Rectifier) bridge, which converts incoming three or single-phase AC volts to DC volts.  During this conversion process DC drives then can regulate speed, torque, voltage and current conditions of the DC motor. This is ideal for industrial processes such as tube mills, extruders, mixers, paper machines and various other controlled applications. Joliet Technologies can provide several DC Drives from different reputable manufactures. Packages can vary from Onsite Retrofits to custom multi drive cabinets.
Engineering and Integration
Joliet Technologies with its highly experienced engineers and Technical staff can provide solutions for existing drive problems or new applications. Solutions that may be helpful consist of:
Sizing a drive to a target horsepower, current and voltage required.
Power and harmonics issues can be addressed and corrected through the use of isolation transformers, reactors and filter packages.
Customizing control and analog circuitry to be integrated in with existing engineered specifications.
Operator consoles / Door mounted pilot and metering devices
MCC and Switchgear installation type custom packaging for growing demands of the industry.
Peer to Peer and Master/Slave drive configurations for Follower and High Horsepower applications.
Engineered cabinet cooling system for any environment. Today's drives are more compact and can be placed in smaller enclosures only if the correct cooling is applied.
Communication Systems for advanced Modbus, Profibus and Data HighWay linking multiple devices such as power management and HMI/PLC systems.
Joliet Technologies can be reached 24/7 for any emergency or non-emergency service and parts request. To make this service work better for anyone interested, please pre-qualify your company using this simple form. Click here, fill out the form and someone from Joliet Technologies will contact you.
Phone (815) 725-9696,
Toll Free (866) 492-9888,
Fax (815) 725-9393 or
E-mail info@joliettech.com

Got a question or comment?
Need a Quote?
Contact Joliet Technologies to get the answers.