Magnetek – Medium Voltage Soft Starters
HRVS-DN Application Specific Software and Applications
Joliet Technologies is now offering the Magnetek Line of Soft Starters.
Magnetek HRVS-DN Medium Voltage Soft Starters 
Application Specific Software and Applications
Application Specific Software
Starting from Diesel Generator
Wide 45-65 Hz auto-tracking frequency to overcome voltage and frequency instability. Designed especially for marine and off-shore industries, or any system operating from a generator.
Synchronous Motor Starting
Optional module allows you to utilize your existing synchronous motor.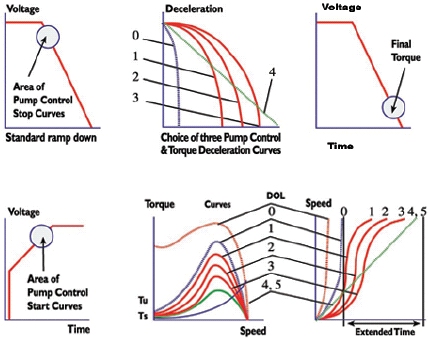 Pump and Special Load Control
Magnetek Soft Starters eliminate two major problems:
Water Hammer During Stopping
The Pump Control feature enables selection between three voltage ramp-down curves or a torque curve, preventing a stall condition which eliminates Water Hammer.
Over-Pressure During Starting
The Pump Control also enables selection between three voltage ramp-up curves, as well as a torque curve, to reduce peak torque.Current ramp is available for special loads.
Applications

Industrial 

Pumps and multi-pump sequencing
Compressors and chillers
Fans, blowers and  centrifuges
Conveyors, elevators and monorail systems
Starting from weak power supply (diesel generators; long supply lines)
Marine & Offshore 

Water and ballast pumps Refrigeration chillers and compressors
Hydraulic pumps and  power packs
Thrusters Main propulsion motors
Unique protection for corrosive environments
Generator ready-auto frequency tracking.
The HRVS-DN is Lloyds, DNV, and ABS tested.
Copyright © 2004
Information Provided by:
Magnetek ICG
N49 W13650 Campbell Drive
Menomonee Falls, WI 53051
Toll Free: 800-288-8178
Fax: 262-783-3510
Call Joliet Technologies TODAY 
If you have any questions concerning Magnetek's line of Soft Starters or related products, please contact us by:
Phone (815) 725-9696,
Toll Free (866) 492-9888,
Fax (815) 725-9393 or
E-mail info@joliettech.com
---
Joliet Technologies custom packages, integrates and engineers AC Variable Frequency Drives (VFD), DC Variable Speed Drives (VSD) and AC Drive Controllers using top of the line manufacturers, like ABB, Emerson-Control Techniques, Siemens, Fincor, Avtron and Magnetek. Our custom drive packages are built to your specifications for your application. We specialize in large horsepower drive systems (500Hp and above). Call us at (815) 725-9696 or fax us at (815) 725-9393 or e-mail us or fill out an RFQ with your requirements. Serving the greater Chicagoland area and the World.