As of March 26, 2010 Joliet Technologies is no longer representing the Avtron line of products.
We do however represent the Dynapar line of Rotary Feedback Products.
Avtron – Tachs, Tachometers, Encoders, Rotary Pulse Generators
Joliet Technologies is the preferred Avtron Integrator for the Chicagoland area.
Tachs, Tachometers, Encoders, Rotary Pulse Generators 
Tach Solutions
SHAFTachsTM is a trademark of Avtron Manufacturing, Inc.
Avtron SHAFTachs Eliminate Couplings, Adapter Flanges, and Alignment Problems Forever!
Are you tired of broken couplings shutting down your process?
Are encoder bearings failing before the next outage?
Are your foot or face mounted encoder shafts lined up properly?
How about eliminating ALL of these problems once and for all?
Now you can with Avtron Shaft Mounted Encoders. We have the hardware you need for either Mill-Duty or Heavy, Mill-Duty applications.
Our Model M3 Universal Encoder can be mounted to 5/8″ through 2 3/8″ shaft diameters for Industrial-Duty applications. With o-ring seals and neoprene gaskets, the M3 Universal Encoder can be used in more demanding applications where open frame units become contaminated and fail prematurely.
Our Model M585 and M685 fit 1 1/8″ diameter shafts for Heavy, Mill-Duty installations with compression fittings and anti-rotation brackets included. These units stand up to the rigors of severe environments and harsh operating conditions without complaint.
Avtron shaft mounted encoders also save you money on new installations by eliminating the need to buy motors with expensive accessory flange adapters, couplings, and associated installation time. You also shorten the distance the encoder protrudes from the end of the motor frame, which reduces damage caused by material handling equipment striking the encoder.
Anyone can install a shaft tach since no special shim kits or alignment skills are required. You will soon find that the installed cost of Avtron Encoders is lower than those involving "low-cost" encoders with all the adapter flanges and couplings that add significantly to the length of the motor while making your overall system quality look poor. Whether you purchased your encoder from Avtron directly or through one of our distributors, service and support are just a phone call away.
Encoder Cross Reference
Lakeshore

AVTRON

RIM Tach 8500
M285
RIM Tach 8500 Quad
M285 Quad
RIM Tach 6200
M485
RIM Tach 1250
M285 with
Adapter Plate
SLIM Tach SL56
M3 Universal Encoder
SLIM Tach SL85
M285
RL67
M285 with B24049 or B24221 Adapter Plate
HS56
M3-3 Universal Encoder with single or dual output up to 2500 PPR
Magcoder
M3 Universal Encoder
Dynapar

AVTRON

77/97AN/62P/HS35
M285, M193B, or M3
Universal Encoder
Brushless DC Tachometers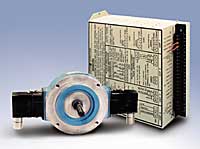 Click here to view K661 and K662 Instruction Sheets.
If you have analog tachogenerators like the GE BC-42 and BC-46 or the Reliance Electric RE-210 you probably want to upgrade them without the need to change your drives to accept frequency inputs. These analog tachs are DC Generators that put out voltage signals at 50, 100, or 200 VDC per 1000 RPM. If you are in this situation, Avtron has a solution. You can install an Avtron Encoder on the motor in place of the analog tach and add our Model K661 Brushless Tachometer in the drive cabinet. The K661 will accept as a standard, a 240 PPR input. It can handle signals up to 24 KHz, and has a maximum voltage output of 300 VDC. The K661 has a selectable 50, 100, or 200 VDC per 1000 RPM output at 3 mA. The feedback signal is more stable than the analog tach signals and there are no brushes to maintain. Speed regulation is improved and routine maintenance is eliminated.
The Avtron Model K662 Brushless Tachometer can be used for more modern drives that use a 0-10 VDC. The K660A can be used if you need a 4-20 mA signal.
This method of upgrading goes beyond improved performance. When digital drives are installed in the future, the Avtron Encoder can be used to feed a frequency signal to the drive directly, thus maintaining the installation. Only the Brushless Converter is removed from service for a clean and efficient upgrade path.
Mounting an Avtron Encoder on a Roll Shaft or Drive Shaft
There are applications that come up from time to time where an encoder must be mounted to the end of a roll or drive shaft rather than on a motor shaft for instrumentation purposes. The same installation standards apply no matter where the encoder is installed. If you are mounting an encoder on a roll, the easiest way is to drill and tap the end of the roll shaft and thread a 1 1/8″ x 2″ bolt into it. Cut off the hex head and turn the bolt down to 1″. Use an Avtron M3 Universal Encoder with a 1″ Hollow Shaft mount and clamp it in place on the shaft. Using the insulating hardware that comes with the M3 Universal Encoder, mount a 1/4″ rod with a ball and clevis (looks like a tie rod on both ends, available from Avtron) between the encoder anti-rotation bracket and a convenient location on the machine's base. The mounting arrangement permits the encoder to ride with any end movement of the roll, up to 1″ without affecting performance.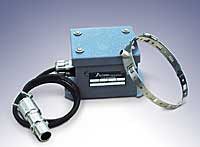 Click here to view M185 Instruction Sheet.
Another method uses an Avtron Model M185 UniPulser (TM) clamp-style encoder. It has a stainless steel clamp with a magnet assembly that triggers an external pick-up with one pulse per revolution (PPR). Using Avtron counters, this single PPR signal can be used to provide speed indication or wrap counting for diameter calculation in rolls or coils even at this low pulse rate. For speed monitoring, Avtron counters look at the timing between leading edges to provide accurate indication with updates every second, rather than counting pulses over a given time period. This is just one more reason why you should be using Avtron Encoders and Counters on your process. The M185 UniPulser is typically installed on Paper Mill Line Shaft Machine jack shafts for speed/draw systems and on winder core chucks for roll density and quality control.
Avtron also can make a custom encoder for applications like screwdown positioning on hot mill finishing stands where a 240 PPR rotor is installed on the jack shaft and the pick-up electronics and line driver are installed on the base. This installation eliminates the timing belts and analog BC-46 tachogenerators which are a source of continual maintenance. The Avtron solution requires no maintenance, since there are no bearings or couplings to fail and no timing belts to break or slip. Let us provide a no-maintenance solution for you!
UniPulserTM is a trademark of Avtron Manufacturing, Inc.
---
Call Joliet Technologies TODAY 
If you have any questions concerning Avtron's Tachs, Encoders, and Pulse Generators, please contact us by:
Phone (815) 725-9696,
Toll Free (866) 492-9888,
Fax (815) 725-9393 or
E-mail info@joliettech.com
---
Joliet Technologies custom packages, integrates and engineers AC Variable Frequency Drives (VFD), DC Variable Speed Drives (VSD) and AC Drive Controllers using top of the line manufacturers, like ABB, Emerson-Control Techniques, Siemens and Saftronics (Fincor). Our custom drive packages are built to your specifications for your application. We specialize in large horsepower drive systems (500Hp and above). Call us at (815) 725-9696 or fax us at (815) 725-9393 or e-mail us or fill out an RFQ with your requirements. Serving the greater Chicagoland area and the World.