(Obsolete) Saftronics GP10 – General Purpose Open Loop Vector AC Drive
(Obsolete FINCOR Series 5700)
For Dimension Sheets, contact Joliet Technologies
Basic Connection Diagrams

Basic Connection Diagram (Source Logic, Mainly Europe)

For Spare Parts, contact Joliet Technologies
Basic Connection Diagram (Source Logic, Mainly Europe)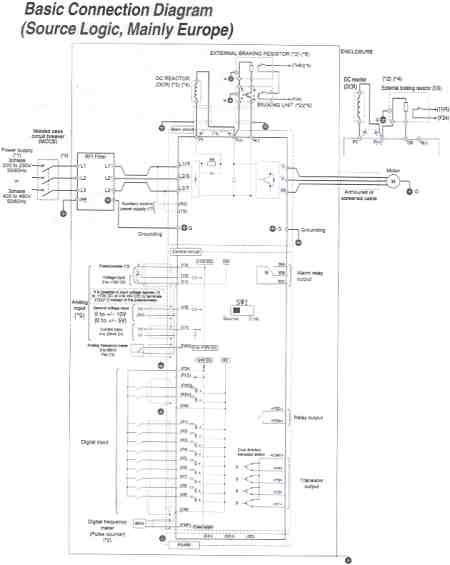 Note: The control circuit common terminals [11], (CM) and are isolated
(*1) Use a drive with rated voltage matching the power supply voltage.
(*2) Option. Use as required.
(*3) Use this peripheral device when necessary.
(*4) Remove the jumper wire (*4) between P1 and P(+) before connecting a DC REACTOR.
(*5) Be sure to use the braking unit (option)('6) when connecting the external braking resistor (option)(*5)
(*6) Connect the braking unit to P(+) ans N(-).
(*7) The drive can be operated without connecting the auxiliary control power supply
(*8) Terminal (X1) to (X9) can be preset (THR) ("E01 to E09: 9).
(*9) Use only one terminal-V2 or C1' exclusively.
To purchase any Saftronics drives or information, contact us at:
Phone (815) 725-9696,
Toll Free (866) 492-9888,
Fax (815) 725-9393 or
E-mail info@joliettech.com 
Call for availability of drives, and freight options. (815) 725-9696
All prices are subject to change without notice.