(Obsolete) Saftronics VG10 – Dynamic Torque Vector AC Drive
(Obsolete FINCOR Series 6600)
For Drive Dimension Sheets, contact Joliet Technologies

DC Link Reactor 100 HP and Above

Basic Connection Diagrams
For Spare Parts, contact Joliet Technologies
DC Link Reactor 100 HP and above
Dimensions in inches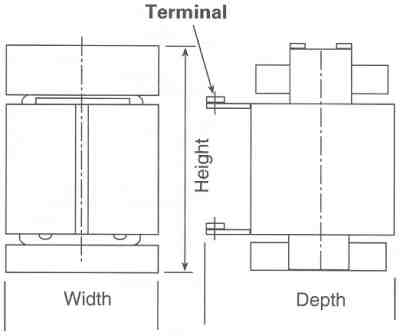 Hp
Part Number
Width
Height
Depth
Weight
Loss [W]
230V VG10 
100
SDCR2-75B
7.87
10.63
7.09
37
55
125
SDCR2-90B
7.09
11.02
8.46
37
57
460V VG10 
100
SDCR4-75B
7.48
10.63
6.89
35
58
125
SDCR4-90B
7.48
11.02
7.87
44
64
150
SDCR4-110B
7.48
11.02
7.87
46
73
200
SDCR4-132B
7.87
11.02
8.07
55
84
250
SDCR4-160B
8.27
12.6
8.07
68
90
300
SDCR4-200B
8.27
12.99
9.06
75
126
350
SDCR4-220B
8.66
13.78
9.06
81
131
400
SDCR4-280B
8.66
14.57
9.65
95
133
450
SDCR4-315B
9.84
12.01
8.78
88
150
500
SDCR4-355B
9.84
12.99
8.78
99
205
600
SDCR4-400B
9.84
13.78
9.17
106
215
Note:
VGi0 Drives rated 100 Hp and above are furnished with a DC link reactor. This reactor must be installed between terminal Pi and P+ prior to commissioning of the Drive.
The weight of the DC Link Reactor is not included with that of the Drive.
DC Link Reactor is provided as open type. Enclosure to be provided by others.
Prices and spec_ications subject to change without notice.
Call for availability of drives, and freight options. (815) 725-9696
All prices are subject to change without notice.
To purchase any Saftronics drives or information, contact us at:
Phone (815) 725-9696,
Toll Free (866) 492-9888,
Fax (815) 725-9393 or
E-mail info@joliettech.com