Permanent Magnet DC Motors
for the 2600/2610 Series Fincor DC Drives
These DC motors have constant torque characteristics over the entire speed range. Ruggedness, dependability, and extended warranty make our products worry-free and the best in the industry. Each motor is run up to 4four hours at our inspection facility to ensure the best performance and the lowest noise level.
All of the DC motors have permanently lubricated ball bearings, and easy access brush/spring assembly for trouble-free maintenance. We offer NEMA frame DC SP motors in both TEFC (totally enclosed fan-cooled), and TENV (totally enclosed non-vent) enclosures for the complete horsepower range, while all other motor companies offer only TENV enclosure for 1/2HP and under. All of the motors have NEMA C flange face and removable casting foot for mounting versatility.
Dimension Chart for these motors
These DC motors have the following major advantages:
Highest quality oriented magnets for increased motor efficiency;
Armature connections fused to commutator for reliability and low resistance;
Removable casting base for mounting versatility and improved rigidity;
Dynamic balanced armature for smooth operation; Fan cooling for no temperature increase;
Double seal ball bearings with permanent grease filling for long life;
Long life brushes;
Powder coating exterior for much better looks and scratch proof;
Unique clamp protections prevent lead wires from pulling off;
Reinforced C-face flange and all die casting construction is the best in the industry
Dimension Chart for these motors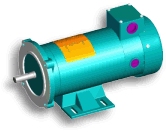 SCR (Silicon Controlled Rectifier) RATED DC MOTORS…
Are the most common DC motors used in industrial applications. Permanent magnet DC motors are typically used with SCR (thyristor) speed controllers in applications requiring adjustable speed and constant torque throughout the speed range. PM DC motors are also capable of dynamic braking for faster stops, and for high starting torques for heavy load applications.
Control Features:
Use 115V AC input SCR control on 90VDC motors, and 230V AC input SCR control on 180VDC motors. Motors have linear speed/torque characteristics over entire speed range, which provides high starting torque for heavy load applications. Motors can rotate in either direction with simple change of two-lead connection.
Replacement of other motors:
Hallmark Industries' DC motors have a unique compact design, and can replace any other brand DC motors.
(Call for Pricing)
SCR RATED NEMA FRAME DC MOTORS
HP
F.L.
RPM
Arm
Volt
Part #
NEMA
Frame
ENCL.
F.L.
Amps
Torque
(in.lbs)
Ap'x
Wgt.
Price
1/4*
1750
90
MD0502A
56C
TEFC
2.9
9
20
CALL
1/4*
1750
90
MD0502C
56C
TENV
2.9
9
19
CALL
1/3*
1750
90
MD0503A
56C
TEFC
3.6
12
20
CALL
1/3*
1750
90
MD0503C
56C
TENV
3.6
12
19
CALL
1/2*
1750
90
MD0505A
56C
TEFC
5.3
18
23
CALL
1/2*
1750
180
MD0505B
56C
TEFC
2.6
18
23
CALL
1/2*
1750
90
MD0505C
56C
TENV
2.6
18
22
CALL
1/2
1750
180
MD0505D
56C
TENV
2.6
18
22
CALL
3/4*
1750
90
MD0507A
56C
TEFC
7.8
27
29
CALL
3/4*
1750
180
MD0507B
56C
TEFC
3.9
27
29
CALL
1*
1750
90
MD0510A
56C
TEFC
10.4
36
32
CALL
1*
1750
180
MD0510B
56C
TEFC
5.2
36
32
CALL
1.5
1750
180
MD0515B
56C
TEFC
7.4
54
46
CALL
1.5
1750
180
MD1415B
145TC
TEFC
7.8
54
50
CALL
2
1750
180
MD1420B
145TC
TEFC
9.7
72
70
CALL
* Factory stock motors. Other items may be longer lead time