Low voltage DC drives
ABB DC Drives
DCS800, 10 to 4000 hp
DriveWindow Light


Startup and Maintenance Tool
PC tool for ABB drives
DriveWindow Light is an easy-to-use tool for PC-based start up and maintenance of your ABB drive. It is included with every DCS800 drive and has the following features:
User interface tool to view and set parameters
Startup Assistant tool
Adaptive Programming (AP) tool
Fault Logging/Troubleshooting
It supports a wide range of ABB industrial drives, including ACS350, ACS550, ACS800, as well as the DCS800.
Highlights
Viewing and setting parameters in offline and online modes
Editing, saving and downloading parameters
Comparing parameters
Graphical and numerical signal monitoring
Drive control
Start-up assistants
DWL AP tool for DCS800 (for Adaptive Programming)
All DCS800 DC drives are equipped with DriveWindow Light
Light Software with Heavy Features
DriveWindow Light offers many functions in an easy-to-use package. It can be used in an offline mode, which enables parameter setting at the office even before going to the actual site. The parameter browser enables viewing, editing and saving of parameters. The parameter comparison feature makes it possible to compare parameter values between the drive and the file. With the parameter subset you can create your own parameter sets. Controlling of the drive is naturally one of the features in DriveWindow Light. Drive status and fault information keeps commissioning time low.
With DriveWindow Light, you can monitor up to four signals simultaneously. This can be done in both graphical and numerical format. Any signal can be set to start the monitoring from a predefined level.
---
DWL Start-Up Assistant
DWL Start-Up Assistant for DCS800 gives important assistance for commissioning by interactive dialog. The commissioning steps are presented in correct sequence and necessary parameters are preselected.
The basic assistant collects motor and connection data and executes controller auto tunings
Advanced assistants provide guidance for 12-pulse operation, field reversal, network communication (fieldbus) and master-follower configuration.
A context-sensitive help function is present during the whole sequence
One page is freely configurable by the user. An individual commissioning sequence or parameter selection can be setup to application, machine or motor demands.
Adaptive Programming (AP) Tool
DWL AP is a graphical PC tool to create, document, edit and download Adaptive Programs. Adaptive Program tools contain 16 function blocks and are available in standard firmware. DWL AP offers a clear and easy way to develop, test and document these programs with a PC.
It is a user-friendly tool to modify function blocks and their connections. No special programming skills are required; basic knowledge about block programming is sufficient.
Adaptive Programs are easy to document as hard copies are store as PC files. All related information is saved directly to the drive by parameter.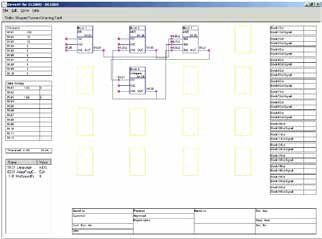 ---
© Copyright 2016 ABB. All rights reserved.
Specifications subject to change without notice.
ABB DCS800 DC Variable Speed Drives

---