Unidrive SP

Solutions Platform
---
PLEASE NOTE: Effective 2019, we no longer supply Control Techniques variable frequency drives and components. We have drives from several other manufacturers which can meet or exceed the performance characteristics of the Control Techniques line. Simply complete the form below, or contact us with the model of your current or obsolete Control Techniques drive and we'll be glad to identify a suitable replacement.
---
Power Accessories
INTERNAL DYNAMIC BRAKING RESISTORS
| | |
| --- | --- |
| During deceleration, the mechanical energy stored in the spinning mass of the motor and load is converted to electrical energy, which recharges the drive's DC bus. Dynamic braking resistors provide a means of rapidly dissipating that energy so that the drive does not fault from overcharging the DC bus. The ohmic value and power rating of the braking resistor is a function of the drive type and size.A zero-space braking resistor is available for heatsink mounting on Unidrive SP frame sizes 1 and 2. These resistors are designed for low-inertia loads commonly used in servo type applications. For higher-inertia loads, the heatsink mounted resistor may not have enough braking capacity, and a larger external resistor may be required. No thermal protection device is required with these heatsink-mounted resistor packages. | Size 1 Unidrive SP heatsink shown |
| | |
Unidrive SP
Size
DC Resistance
Power Rating
Order Code
1
75 Ohm
50W
SM-Heatsink DBR1
2
37.5 Ohm
100W
SM-Heatsink DBR2
(Drives Larger than Size 2 do not have this option)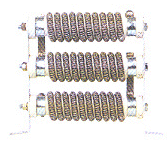 E-STOP DUTY DYNAMIC BRAKING
Panel mounted DB resistors are designed for non-cyclic use where energy dissipation from an active drive is required. Resistors are supplied with mounting hardware unless otherwise noted.
See Options and Accessories section for details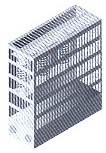 CYCLIC DUTY DYNAMIC BRAKING
These heavy-duty kits have been designed to provide dynamic braking for cyclic and continuous braking applications.
See Options and Accessories section for details
EXTERNAL EMC FILTERS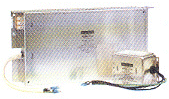 EMC filters are used to minimize high frequency power supply line disturbances caused by PWM AC drives that may interfere with proper operation of sensitive electronic equipment. These specific filters have been assessed for conformance with the EMC directive by testing with the appropriate Control Techniques drives. The filters used with Unidrive SP have been designed to mount in either Footprint or Bookend dimensions, allowing the user to optimize panel space.
See Options and Accessories section for details
IP54 AND IP55 FAN OPTIONS
For those applications using through-panel mounting, and located in demanding enviornments, Unidrive SP can be fitted with optional fans providing either IP54 or IP55 Ingress Protection Ratings. The chart below lists the available fan options.
Unidrive SP
Frame Size

IP54 Fan Option
Order Code

IP55 Fan Option
Order Code

1

3251-4824

3251-3824

2

3251-4824

3251-3824

3

N/A

3251-1224

4

3251-7824

N/A

5

Standard

N/A

6

Standard

N/A
Some additional parts are required for installation of these fans. Please contact Control Techniques Technical Support for details.
ENCODER TERMINAL CONNECTOR
The 15 way D-Type Converter is used to simplify motor feedback wiring by "Breaking out" the 15-pin D-connector signals to screw terminals.
Description
Order Code
Encoder Screw
Terminal connector
SM-ETC
CONDUIT GLAND PLATES
New in 2005 and expanding in 2006 is the option of a conduit gland plate for Unidrive SP wall-mount drives. Currently, conduit mounting plates are available for Unidrive SP sizes 3, 4, and 5.
| | | |
| --- | --- | --- |
| Unidrive SP | Model Number | Order Code |
| Size 3 | CBOX-S3 | 960400-01 |
| Size 4 and 5 | CBOX-S4-5 | 960400-04 |
(Call factory for availability of conduit boxes for Unidrive SP sizes 1, 2 and 6)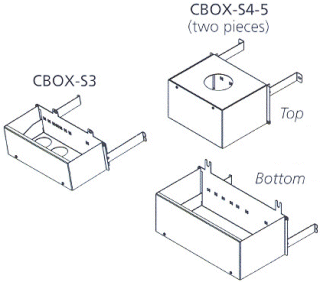 Information provided by Control Techniques, a world leader in the design, production and marketing of electronic drives for the control of electric motors.