PLEASE NOTE: Effective 2019, we no longer supply Control Techniques variable frequency drives and components. We have drives from several other manufacturers which can meet or exceed the performance characteristics of the Control Techniques line. Simply complete the form below, or contact us with the model of your current or obsolete Control Techniques drive and we'll be glad to identify a suitable replacement.
Also, the Fincor and Saftronics lines of AC variable frequency drives, DC variable speed drives, and reduced voltage starters were once owned by Emerson but have been obsolete for several years. However, we have many years' experience working with these drives and can quickly identify replacements capable of exceeding the quality and performance of these older drive technologies. For a suitable replacement, fill out the form below or contact us with your drive or application requirements, and we'll handle it from there!
---
| | |
| --- | --- |
| |   |
(Obsolete) Saftronics PC10 Mini Vector AC Drives (Obsolete FINCOR Series 5750)
Saftronics PC10 AC Drives are Obsolete and No Longer Available – They have been Replaced with the Saftronics CV10 Compact Vector AC Drives.
Options & Accessories
PC10 24 VDC or 24/120 VAC Input + Relay Option Card
Part number – 100-0169-01
Function
Designed to provide a hardware interface between the users' 24-120 VAC, or 24 VDC input control circuitry and the Saftronics PC10 inverter. It has 5 control inputs including Fwd and REV. It also has (1) form C output relay. Having screw type termination, it assembles directly into the PC10's control terminals.
Specifications
Input – Control Voltage: 24 – 120 VAC RMS, 24 VDC Input Resistance: 23 kOhm Isolation Voltage: 5 kVAC
Output – Output Relays: Form C contact, rated at 120 VAC @ 0.5A / 24 VDC @ 1.0A
Connection Diagram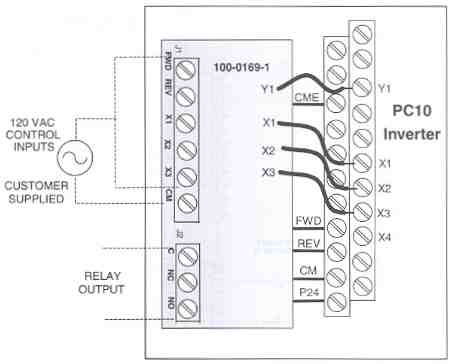 To purchase any Saftronics drives or information regarding Saftronics drives and Accessories, contact us at: Phone (815) 725-9696,  Toll Free (866) 492-9888, Fax (815) 725-9393 or E-mail info@joliettech.com
Call for availability of drives, and freight options.