| | |
| --- | --- |
| | |
[contact-form-7 id="4402″ title="Saftronics Replacement"]
(Obsolete) Saftronics PC10 Mini Vector AC Drives
(Obsolete FINCOR Series 5750)
Saftronics PC10 AC Drives are Obsolete and No Longer Available – They have been Replaced with the Saftronics CV10 Compact Vector AC Drives.
Options & Accessories
PC10 24 VDC or 24/120 VAC Input + Relay Option Card
Part number – 100-0169-01
Function
Designed to provide a hardware interface between the users' 24-120 VAC, or 24 VDC input control circuitry and the Saftronics PC10 inverter. It has 5 control inputs including Fwd and REV. It also has (1) form C output relay. Having screw type termination, it assembles directly into the PC10's control terminals.
Specifications
Input –
Control Voltage: 24 – 120 VAC RMS, 24 VDC
Input Resistance: 23 kOhm
Isolation Voltage: 5 kVAC
Output –
Output Relays: Form C contact, rated at 120 VAC @ 0.5A / 24 VDC @ 1.0A
Connection Diagram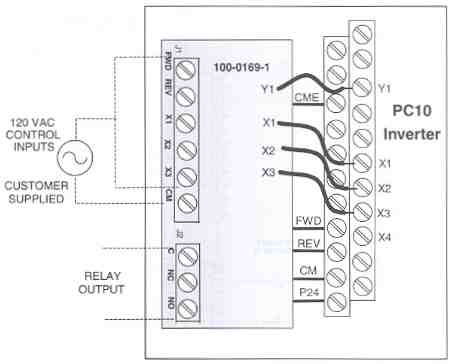 To purchase any Saftronics drives or information regarding Saftronics drives and Accessories, contact us at:
Phone (815) 725-9696,  Toll Free (866) 492-9888, Fax (815) 725-9393 or
E-mail info@joliettech.com
Call for availability of drives, and freight options.