As of March 26, 2010 Joliet Technologies is no longer representing the Avtron line of products.
We do however represent the Dynapar line of Rotary Feedback Products.

AVTRON, INC.
Since 1953, Avtron has been a leader in designing and manufacturing Electrical Control and Test Equipment. Their Aerospace, Industrial Automation, and Load Bank facilities occupy four buildings in Northeast Ohio, to accommodate manufacturing, sales, and engineering resources. Twenty-five percent of Avtron's employees are graduate engineers in electrical, computer, and mechanical fields.Headquartered near Cleveland, Ohio, USA, Avtron is recognized around the world for manufacturing high quality products which function reliably in harsh industrial environments. Avtron's technically advanced products come with a solid field service organization dedicated to prompt and reliable support. Anywhere in the world and at any time, installation, start-up, and support services are available on all Avtron products.
Joliet Technologies is the preferred Avtron Integrator for the Chicagoland area.
---
Avtron – Adjustable Speed Drives and Drive Systems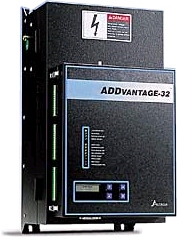 Adjustable Speed Drives and Drive Systems 
Drives and Drive Systems are a vital part of any process requiring the control of motors… one or many. Avtron's ADDvantage-32TM Digital Drive provides new and retrofit (new Digital electronics firing the existing SCR's or new electronics for a Motor Generator Set) control in applications throughout the world. The ADD-32TM can be found in the pulp and paper, rubber, steel/metals, and plastic industries as well as Mining and Marine operations. Anywhere a motor is running and its operation has to be controlled and monitored precisely, a Digital Drive like the ADD-32 is required.
A Digital ADD-32 Drive can be used on an isolated motor or as part of a system, managing an entire mill operation. Avtron is a state-of-the-art U.S.A. manufacturer of advanced digital drives and drive systems. We can supply a full range of drive products and services including:
Digital DC Drives
Digital AC Flux Vector Drives
Rebuilds/retrofits of older analog drives
Programmable logic controllers, drive interface software
Operator stations, motors, and power distribution equipment
System engineering capability including turnkey installations
ADDvantage-32TM and ADD-32TM are trademarks of Avtron Mfg., Inc.
---
Avtron – Speed and Length Measurement
Joliet Technologies is the preferred Avtron Integrator for the Chicagoland area.
Avtron Digital Speed, Draw, and Length measuring systems are microprocessor-based instruments, programmable in actual process units. A wide range of frequency inputs can be accepted and when calibrated with engineering units such as feet per minute, meters per minute, or yards per minute, the appropriate value is clearly displayed on the digital readout.
Frequency ranges from 1 Hz to 10 – 20 KHz (depending upon instrument), typically yield accuracies of 0.01%. The Avtron M185 Unipulser can be used where a tach/encoder/pulse generator is not easily-mountable. RS422 serial output is a standard feature for communicating with computers or other mill devices. RS232 serial output is possible for communicating to printers with readily available optional hardware, part number 347653 from Avtron.
Multiple remote display options exist for Avtron Speed/Draw systems, as well as NEMA enclosures and RS232 serial communications capability.
---
Avtron – Tachs, Tachometers, Encoders, Rotary Pulse Generators
Tachs, Tachometers, Encoders, Rotary Pulse Generators 
Purpose:  
Speed and/or Position Feedback to Electrical Drive Systems
Length, Speed, and/or Position Feedback to Process Instrumentation and Controls
There are many applications for rotary pulse generators (also known as incremental encoders, tachs, tachometers) throughout industry. Avtron manufactures a wide range of electrical and mechanical configurations to satisfy the installation requirements of your application. These units typically mount to the non-drive end of AC and DC motors for speed feedback applications and in some cases directly to roll shafts for instrumentation.
Applications: 
Avtron produces "Mill-Duty", "Heavy, Mill-Duty" and "Severe Duty" encoders to handle rugged environments encountered in the following industries:
Pulp and Paper
Metals
Rubber
Plastic Film
Material Handling
Mining
Fiberglas
Roofing
Converting
Test Equipment
Textiles
Non-Wovens
Cement Kilns
---
Call Joliet Technologies TODAY 
If you have any questions concerning Avtron products, feel free to contact us:
Phone (815) 725-9696,
Toll Free (866) 492-9888,
Fax (815) 725-9393 or
E-mail info@joliettech.com
---
Joliet Technologies custom packages, integrates and engineers AC Variable Frequency Drives (VFD), DC Variable Speed Drives (VSD) and AC Drive Controllers using top of the line manufacturers, like ABB, Emerson-Control Techniques, Siemens and Saftronics (Fincor). Our custom drive packages are built to your specifications for your application. We specialize in large horsepower drive systems (500Hp and above). Call us at (815) 725-9696 or fax us at (815) 725-9393 or e-mail us or fill out an RFQ with your requirements. Serving the greater Chicagoland area and the World.