ABB General Machinery Drives
ACS350, 0.5hp to 10hp Technical Guide
Options
How to select options
The options show in the table are available with the ACS350. Each has an option-unique 4-digit code, which is shown in the first column. This option code is added to the end of the basic drive option code using a "+" code.For example, an ACS350-03U-O1A2-4+]400 would be a base drive with an Advanced Control Panel shipped together. Option descriptions are provided in the subsequent pages.
Selection table
Control panel
J400
J404
Advanced control panel
Basic control panel
ACS-CP-A
ACS-CP-C
Potentiometer
J402
Potentiometer
MPOT-01
Fieldbus
K451
K454
K457
K458
DeviceNet
PROFIBUS DP
CANopen
ModBus RTU
FDNA-01
FPBA-01
FCAN-01
FMBA-01
Options
User interfaces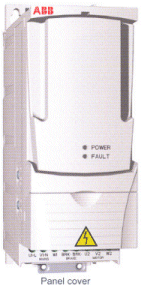 Panel cover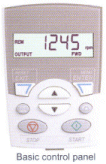 The purpose of the panel cover is to protect the drive's connection surfaces if a control panel is not used.Basic control panel
The basic control panel features a single line numeric display. The panel can be used to control the drive, set the parameter values or copy them from one drive to another.Advanced control panel
For easy drive programming, a detachable, multi-lingual alphanumeric advanced control panel is available. The control panel provides assistants and a built-in help function to guide the user.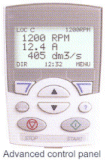 It includes a real time clock, which can be used during fault logging and in controlling the drive, such as start/ stop. The control panel can be used for copying parameters for back up or for downloading to another drive. A large graphical display and soft keys make it extremely easy to navigate.

Potentiometer
Potentiometer MPOT-01 with two switches: start/stop and forward/reverse. Polarity (PNP or NPN) is selected with DIP switches. No external power source is needed for the potentiometer.Panel mounting kit
The panel mounting kit ACS/H-CP-EXT enables mounting of control panels on cabinet doors. This kit includes a 9 ft extension cable and mounting hardware.

FlashDrop
FlashDrop is a powerful palm sized tool for fast and easy parameter selecting and setting. This tool can be used to download parameters to a drive in as little as two seconds. U sing this tool it is also possible to hide selected parameters to protect the machine. Only the parameters needed in the application are shown. FlashDrop does not require the drive to be powered. The drives shipping container is also designed to allow use of the FlashDrop tool without removing the drive.
Option Pricing (ACS350 AC Drives)
Stock Options (These options will be shipped separately from drive shipping package)
Name

Description

Field Kit Code

Field Kit
Price

Pulse Encoder
interface
The Pulse Encoder Interface module offers a differential or single ended interface for a digital pulse encoder connection. The module is capable of operating from either a 15 or 24 VDC signal with a maximum frequency of 200kHz.
MTAC-01
CALL for Pricing

Advanced Control Panel
The Advanced Control Panel includes a full graphic. backlite display capable of displaying three Actual Signal values or bar graphs. The Alpha-Numeric display supports thirteen languages. A Real Time Clock is also included. This panel supports the internal Sequence Programming Function.
ACS-CP-A
CALL for Pricing
Basic Control Panel
The Basic Control Panel Includes a single line numeric back lite LCD display.
ACS-CP-C
CALL for Pricing
Cabinet Panel Mounting
Control Panel Mounting Platform allows remote mounting of the keypad on a larger enclosure or remote panel. The kit maintains UL Type 12 integrity of the mounting location. Adapters, 3 m (10ft) cable and mounting hardware are included in this kit. With this mounting arrangement, the keypad is removable from the panel in a fashion identical to a drive-mounted keypad
OPMP-01
CALL for Pricing
Speed Pot. Start/Stop & Fw/Rev Switches
Potentiometer with two switches: Start/Stop and forward/reverse. Polarity is selected with DIP switches. No external power sources is needed for the potiometer. This option can be used with the Blank Cover, Basic or Advanced Panel.
MPOT-01
CALL for Pricing
ACS350 DemoCase
Powered by 115VAC, the DemoCase includes an ACS 350 drive mounted on a panel. Included is a motor and I/O board with switches, pots, meters and LEDs permitting remote operation of the drive and motor.
ACS350-
DEMOCASE
CALL for Pricing
ACS150/350 Programming Case
Powered by 115VAC, the Programming Case includes an ACS150 and ACS350 drive mounted on a panel. Included is an I/O board with switches, pots, meters and LEDs permitting remote operation.
ACS150/350-
PROGCASE
CALL for Pricing
ACS 150/350 Display Case
The Display Case provides an ACS50, ACS150 and an ACS350 along with options ACS50-POT. MPOT-01, one Fieldbus Adapter, ACS-CP-A, ACS-CP-C, MFDT-01 and MTAC-01 mounted loosly inside a foam packed suitcase.
AC150/S350-
DISPCASE
CALL for Pricing
RJ45/DB9 Adapter
This adapter converts the drive's panel port RJ45 (CAT 5 cable connector) plug to a 9 pin RS-232 computer serial port connector for connecting the ACS550 to a PC.
OPCA-01
CALL for Pricing
DriveWindow Light 2.5
DriveWindow Light is software designed for online drive commissioning and maintenance purposes. It is possible to adjust parameters, read the actual values and control the drive with DriveWindow Light instead of the drive control panel. It is also possible to follow trends and draw graphs. An RJ45 to DB9 adapter cable is provided to permit connection between the panel port and a PC.
3AFE64532871
CALL for Pricing
Panel Extension Cable
7 foot CAT 5 patch cable allows remote operation of the standard panel or connection of the drive to a PC using the RJ45/DB9 Adapter which must be purchased separately.
OCAT-01
CALL for Pricing
FlashDrop
FlashDrop is a powerful palm sized tool for fast and easy parameter selecting and setting. It gives the possibility to hide selected parameters to protect the machine. Only the parameters needed in the application are shown. The tool can copy parameters between two drives or between a PC and a drive. Includes DrivePM (Drive parameter manager) which is a tool to create, edit and copy parameter sets for FlashDrop. The parameter sets can consist of all parameters (incl. motor parameters and ID run results) or only a set of the user parameters.
MFDT-01
CALL for Pricing
NEMA 1 Enclosure Kit
This option provides the necessary hardware to modify the ACS350 drive from the standard finger-safe protected chassis to NEMA 1 protection capable of landing conduit. MUL1-R1 kit is used with frame sizes RO through R2 and MUL1-R3 is used with frame size R3
MUL1-R1MUL1-R3
CALL for Pricing
DeviceNet
Adapter
The DeviceNet network uses a linear bus topology. Terminating resistors are required on each end of the trunk line. Drop lines as long as 6 meters (20 feet) each are permitted, allowing one or more nodes to be attached. DeviceNet allows branching structures only on drop lines.
FDNA-01-KIT
CALL for Pricing
ProfiBus- DP Adapter
PROFIBUS is an open serial communication standard that enables data exchange between all kinds of automation components. The physical transmission medium of the bus is a twisted pair cable (according to the RS-485 standard). The maximum length of the bus cable is 100 to 1200 meters, depending on the selected transmission rate. Up to 31 stations can be connected to the same PROFIBUS system without the use of repeaters.
FPBA-01-KIT
CALL for Pricing
CANOpen Adapter
CANopen is a higher layer protocol based on the CAN (Control Area Network) serial bus system and the CAL (CAN Application Layer). CAN open assumes that the hardware of the connected device has a CAN transceiver and a CAN controller as specified in ISO 11898. The CANopen Communication Profile, CiA Ds301, includes both cyclic and event driven communication, which makes it possible to reduce the bus load to minimum while still maintaining extremely short reaction times. High communication performance can be achieved at relatively low baud rates, thus reducing EMC problems and cable costs. CAN open device profiles define both direct access to drive parameter and time critical process data communication. The FCAN-01 module fulfils CiA (CAN in Automation) standard DSP 402 (Drives and Motion Control).
FCAN-01-KIT
CALL for Pricing
ModBus RTU
Adapter
ModBus is a serial, asynchronous protocol. The ModBus protocol does not specify the physical interface. Typical physical interfaces are RS-232 and RS-485. The FMBA-01 provides a galvanically isolated RS-485 interface. ModBus is designed for integration with Modicon PLCs or other automation devices, and the services closely correspond to the PLC architecture. The FMBA-01 supports the RTU protocol only.
FMBA-01-KIT
CALL for Pricing
For your specific application contact us for pricing.

Options
Machine interfaces
Plug-in fieldbus modules bring connectivity to major automation systems. A single twisted pair of wire avoids large amounts of conventional cabling, thereby reducing costs and increasing system reliability.The ACS350 supports the following fieldbus protocols:

DeviceNet
PROFIBUS DP
CANopen
Modbus RTU

Protection and installation

NEMA 1 kit
The NEMA 1 kit includes a conduit box and hood for protection against dirt and dust. Two kits are available to cover all frame sizes of the ACS350. MUL1-R1 covers frame sizes R0 through R2 and MUL1-R3 covers frame size R3.
Options
Software Tools
DriveWindow Light 2
DriveWindow Light 2 is an easy-to-use start-up and maintenance tool for ACS350 drives. It can be used in an offline mode, enabling parameter setting at the office before going to the actual site. The parameter browser enables viewing, editing and saving of parameters. The parameter comparison feature makes it possible to compare parameter values between a drive and file. Using the parameter subset you can create your own parameter sets. Controlling the drive is also possible using DriveWindow Light. With DriveWindow Light, you can monitor up to four signals simultaneously in either a graphical or numerical format. Any signal can be set to stop being monitored at a pre-defined level.Start-up wizards 
Start-up wizards make the setting of parameters easy. Simply launch the wizard, select an appropriate assistant e.g. for setting analog outputs, and all parameters related to this function are shown together with help pictures.DriveSP – special feature for the ACS350
For the ACS350 DriveWindow Light offers DriveSP, which is a new tool used for setting up the sequence programming parameters. DriveSP draws the program graphically on the PC screen showing used states, active state, transition conditions, possible transition delay as well as used reference and ramps.Highlights
Sequence programming tool for ACS350
Editing, saving and downloading parameters
Graphical and numerical signal monitoring
Drive control
Start-up wizards
DriveWindow Light requirements
Windows NT/2000/XP
Free serial port from a PC
Free control panel connector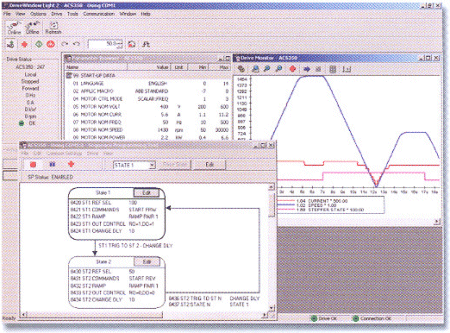 Specifications
Brake Resistors
Brake resistors
All ACS350 drives are configured with a built-in brake chopper rated for 100% braking. By connecting an external resistor you can enable the dynamic braking function. The minimum and maximum resistance and the required power is shown in the table below. Ensure the resistor purchased does not exceed the maximum resistance nor is smaller than the minimum resistance.For more information about selection of brake resistors, see the ACS350 User's Manual.
Selection table
Type Code
Frame
Size
Rmin
ohm
Rmax
ohm
PBRmax
hp
kW

1-phase supply voltage 200 – 240 V units

ACS350-01U-02A4-1
R0
70
390
0.5
0.37
ACS350-01U-04A7-1
R1
40
200
1
0.75
ACS350-01U-06A7-1
R1
40
130
1.5
1.1
ACS350-01U-07A5-1
R2
30
100
2
1.5
ACS350-01U-09A8-1
R2
30
70
3
2.2

3-phase supply voltage 200 – 240 V units

ACS350-03U-02A4-2
R0
70
390
0.5
0.37
ACS350-03U-03A5-2
R0
70
260
0.75
0.55
ACS350-03U-04A7-2
R1
40
200
1
0.75
ACS350-03U-06A7-2
R1
40
130
1.5
1.1
ACS350-03U-07A5-2
R1
30
100
2
1.5
ACS350-03U-09A8-2
R2
30
70
3
2.2
ACS350-03U-17A6-2
R2
30
40
5
4

3-phase supply voltage 380 – 480 V units

ACS350-03U-01A2-4
R0
310
1180
0.5
0.37
ACS350-03U-01A9-4
R0
230
800
0.75
0.55
ACS350-03U-02A4-4
R0
210
500
1
0.75
ACS350-03U-03A3-4
R1
150
400
1.5
1.1
ACS350-03U-04A1-4
R1
130
300
2
1.5
ACS350-03U-05A6-4
R1
100
200
3
2.2
ACS350-03U-08A8-4
R1
70
110
5
4
ACS350-03U-12A5-4
R3
40
80
7.5
5.5
ACS350-03U-15A6-4
R3
40
60
10
7.5

© 2006 ABB Inc. ACS350-PHTC01U-EN REV B, Effective: 1/1/06.
Specifications subject to change without notice.