Commander SX

NEMA 4X Washdown Drive
---
PLEASE NOTE: Effective 2019, we no longer supply Control Techniques variable frequency drives and components. We have drives from several other manufacturers which can meet or exceed the performance characteristics of the Control Techniques line. Simply complete the form below, or contact us with the model of your current or obsolete Control Techniques drive and we'll be glad to identify a suitable replacement.
---
Specifications and Dimensions
SPECIFICATIONS
Environment
IP66 Nema 4X rating for mounting in close proximity to the motor and application.
Ambient temperature 40°C (104°F) without derating. Up to 50°C operation with a maximum derating of only one motor size.
Removable gland plate for easy termination and removal of control and motor cables.
Complies with EN954-1 Cat 3 with PX-Secure option. EMC cable gland option for shielded cable management.
Electromagnetic Immunity complies with EN61800-3 (Drive standard) and EN61 000-6-2 (generic standard).
Electromagnetic Emissions complies with EN61800-3 (Drive standard – 1st and 2nd environment) with integral EMC filter.
Complies with EN61000-6-3 and EN61000-6-4
(Generic standard) with integral EMC filter.
Earth leakage current less than 3mA with integral EMC filter in circuit.
European Hygienic Engineering and Design Group EHEDG and FDA hygienic recommendations have been adopted for the food industry

No paint.
Anodised aluminium heat sink.
Polycarbonate covers.
All slopes> 3 degrees incline
Roughness < 0.8 microns.
No zones where liquids can accumulate.
Control
Open loop vector control.
V/F control.
Closed loop vector with PX-Encoder option.
Speed reference input 0-1 OV, 0-20mA, 4-20mA.
Digital inputs Enable, Run forward, Run reverse, Jog, local/remote select
Switching frequency 3kHz to 11 kHz with 4.5kHz as default.
Acceleration and Deceleration ramps (linear and S-type).
Serial communication as standard

Modbus RTU RS485 via RJ45 connector.
DC injection braking as standard.
Integral dynamic braking transistor and resistor PID Controller.
Protection
Undervoltage, Supply and DC Link overvoltage, Phase loss, Drive overload, Instantaneous overcurrent, Over temp, Short circuit, Ground fault, Over heat, Motor thermal, Watchdog.
DIMENSIONS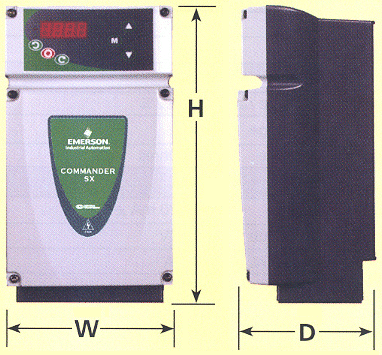 Frame
Size

H
in (mm)

W
in (mm)

D
in (mm)

1

12.99

(330)

7.08

(180)

7.44

(189)

2

12.99

(330)

7.08

(180)

8.78

(223)

3

12.99

(330)

11.06

(281)

9.17

(233)
Information provided by Control Techniques, a world leader in the design, production and marketing of electronic drives for the control of electric motors.