SCR Drive Controllers
(Silicon Controlled Rectifier Drives)

Joliet Technologies custom packages, integrates and engineers SCR Drive Controllers (Silicon Controlled Rectifier Drive Controller) and DC Variable Speed Drives (VSD) using top of the line manufacturers, like ABB, Emerson (Control Techniques & Saftronics / Fincor), Siemens and WEG to name a few. Our custom drive packages are built to your specifications for your application. We specialize in large horsepower drive systems (500Hp and above). SCR Drive Controllers are also known as DC Drives, Variable Speed Drives, Adjustable Speed Drives, Electric Motor Drives, Electronic Motor Drives and a few other names.
Call us at (815) 725-9696 or fax us at (815) 725-9393 or e-mail us or fill out an RFQ with your requirements. Serving the greater Chicagoland area and the World.
Joliet Technologies is a UL (Underwriters Laboratories) Listed, Enclosed Industrial Control Panel shop.
What is a SCR Drive (Variable Speed Drive, VSD or VFD)?
You can divide the world of electronic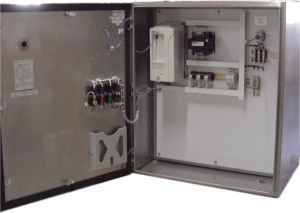 motor drives into two categories: AC and DC. SCR Drives (Silicon Controlled Rectifier Drive) are almost always DC. A motor drive controls the speed, torque, direction and resulting horsepower of a motor. A DC drive typically controls a shunt wound DC motor, which has separate armature and field circuits. AC drives control AC induction motors, and-like their DC counterparts-control speed, torque, and horsepower.
Joliet Technologies SCR Drives…
We have the experience and know how to provide you with the best drive for your application. Joliet Technologies can evaluate your current equipment and recommend either a Retro-Fit or System Replacement. Feel free to contact us with any drive questions you may have.
How to Maintain a SCR Drive (Variable Speed Drive)
Do you know how to maintain Variable Frequency Drives (VFDs)? Doing so is easier than you might think. By integrating some simple, logical steps into your preventative maintenance program, you can ensure your drives provide many years of trouble-free service.
To purchase a drive, contact us at: Toll Free (866) 492-9888,
Phone (815) 725-9696, Fax (815) 725-9393 or E-mail info@joliettech.com 
SCR Drive Controllers
SCR Drives