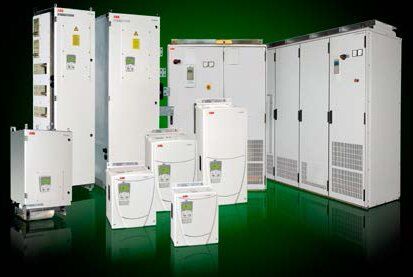 Low voltage DC drives
ABB DC Drives
DCS800, 10 to 4000 hp
Current Ratings – Modules
Plug-in Options
Plug-in Options
1. Basic Control Panel
The DCS800 control panel is standard with every drive. It features a 5-line display and two soft keys. The panel is used to commission and control the drive. Parameters can be saved to it for backup or to download to another drive.
Plus code
+0J400 If no control panel is required
+J409 NEMA 4X (IP66) panel mount with 3m cable
NEMA 12 panel mount with 3m cable (OPMP-01)
2. Plug-in Fieldbus Module
See "Fieldbus Control" section
Fast Optical DDCS Communication Module This optional communications module gives the DCS800 the ability to communicate over fiber optics using ABB's DDCS communication protocol.
Master channel ModuleBus to AC800M
I/O channel to AIMA-01 board
Master-Follower DDCS channel
Tools channel e.g DriveWindow, remote diagnostic NETA, as well as the CDP 312 from ACS800 range can be connected on this board
The board must be located in slot3
Plus code
+L508 Module bus 10 Mbd (SDCS-COM-81)
+L509 NxxA fieldbus adapter 5 Mbd (SDCS-COM-82)
3. Drive-Specific Serial Communication Board
The SDCS-DSL-4 board provides the serial communication for:
Drive to drive (e.g. master-follower)
Drive to external field power supply
12-pulse applications
Plus code
+S199 SDCS-DSL-4 communication board
4. Field Power Supply
Sizes D1 through D4 drives have an internal field power supply.
On Size D5, the field power supply is included as a US standard but can be omitted by dropping the plus code. Sizes D6 – D7 require an external field power supply.
Plus code
+S164 Internal field supply (D5)
5. Control Builder
Control Builder is an optional, user-friendly tool for programming the DCS800 based on the IEC61131-3 standard. To include Control Builder with the drive, a compact flash memory card must be ordered with a plus code. CoDeSys software for the PC is included with every drive. See page 29 for more information.
Plus code
+S200 Compact flash memory card (SDCS-MEM-8)
6. I/O Extension Option Module
The RAIO and RDIO plug-in options offer additional analog or digital I/O. They can be used, for example, in a Master-Follower application for interlocking functions. All the relays can be configured by parameter. Alternatively, a fieldbus module can be used to control any external components in the system. I/O extension modules can be located in any of the three available option slots.
Plus code
+L501 RDIO-01 Digital extension module 3xDI, 2xDO (isolated)
+L500 RAIO-01 Analog extension module 2xAI, 2xAO (isolated)
External isolated digital I/O modules are also available which replace the drive's non-isolated digital I/O.
Plus code
24-48 Vdc Isolated I/O (8 DI, 8 DO) (SDCS-IOB-21)
115 Vac Isolated I/O (8 DI, 8 DO) (SDCS-IOB-22)
230 Vac Isolated I/O (8 DI, 8 DO) (SDCS-IOB023)
---
© Copyright 2016 ABB. All rights reserved.
Specifications subject to change without notice.
ABB DCS800 DC Variable Speed Drives

---